At this time of year we tend to look back and review the highlights from the past 12 months. One of my favorite parts of this review is identifying what coaches, leaders, and parents (people just like you) found most helpful from my blog this year. As someone who loves consolidated lists of tips and resources, I thought I'd share with you my own Top 10 list from 2016.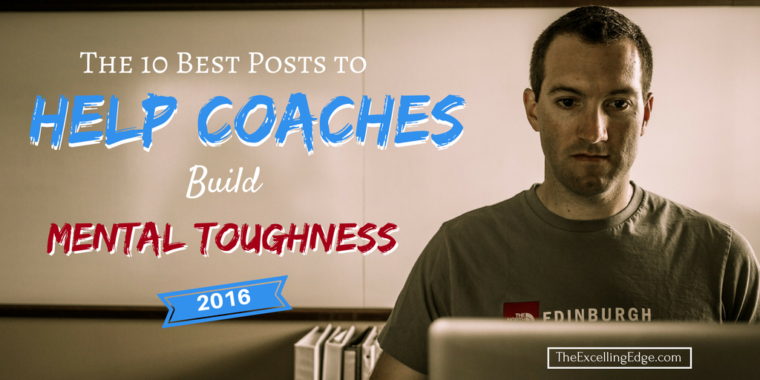 Equipping Coaches Is My Mission
I love equipping coaches with the tools to improve their team's culture, mental toughness, resilience, and performance.
Coaches work hard to bring out the best in their athletes. Skills and tools from sport psychology can help you do just that.
To help you build the culture, mental toughness and resilience of your athletes, I've compiled this year's Top 10 List just for you. It includes the best of 2016. These are the posts other coaches loved the most and found the most helpful.
How do I know that? These are the posts that were visited and shared the most. These are also the posts with the best freebies, meaning a lot of people downloaded the free bonuses in these posts.
Add to Your Coaching Toolkit 
If you're looking to sharpen your coaching saw to ring in the new year, then you'll love this Top 10 List.
Or, maybe you just want to catch up on a few highlights you may have missed.
Either way, now is a great time to add to your coaching toolkit.
You'll definitely want to check out the BONUS downloads that accompany many of these posts. They include quick tips, posters, handouts, and worksheets for you and your athletes. The best part is, they're all FREE.
Alright, dive in and let me know which one YOU find most helpful!
The gist: This post explains 3 specific ways resilient athletes interpret their failures. In sports, failure is inevitable and athletes need to know how to cope with it and bounce back from it when it happens. Teach your athletes the 3 ways to look at their failures so they can learn and grow from them, not crumble.
The gist: In this video I explain the simple science of human performance. You'll learn the power of an athlete's thoughts, what is actually controllable, and the domino effect that impacts performance.
Bonus: Thoughts Drive Performance Poster – use it as a reminder for yourself or share it with your athletes to help them understand the impact their thoughts have on their performances.
The gist: Coaches know the importance of team morale. Athletes experience greater confidence, effort, and satisfaction when morale is high. Unfortunately, some coaches unintentionally make one of 3 common mistakes that crush team morale.
The gist: This post explains the truth about nervousness and how it doesn't have to ruin an athlete's performance. Often feelings of nervousness are simply misunderstood. There are two strategies you can teach to your players to help them embrace their nerves.
Bonus: 5 Ways the Body Prepares for Game Time – an infographic and poster you can hang in your locker room to help athletes understand the reason behind the symptoms of nervousness.
The gist: This post defines what confidence is and is not. Then, you'll learn the six research-based sources of confidence you can use to build the confidence of your athletes. A couple are more obvious, but I'm sure one will surprise you.
Bonus: 18 Tips to Help Coaches Cultivate Confidence – a printable PDF to keep in your coaches tool box.
The gist: The research continues to pile up for how emotions impact an athlete's character and performance. In this post I share 6 reasons coaches should encourage an attitude of gratitude in their locker rooms.
Bonus: Gratitude Board – create a new tradition in your locker room with this gratitude poster. Give your players a place to capture what their thankful for each day or week.
The gist: Many coach's understanding of motivation is built on misconceptions, not science. Rather than attempting to directly motivate others, coaches should work to create a motivational climate.
This post outlines the 3 primary forces which drive human motivation. I share 4 proven strategies effective leaders use to foster motivation in their teams. This is essential for building a winning culture and team.
The gist: One of the most powerful skills I teach athletes (and non-athletes) is diaphragmatic breathing. By combining a three-part process athletes can learn to stay calm under pressure, better manage emotions, and more quickly think, analyze, and react to in-game situations.
In this post I share the powerful benefits, the 3-part technique of diaphragmatic breathing, and when to use it.
Bonus: Diaphragmatic Breathing Quick Guide Poster – use it to help explain to (and remind) your athletes what diaphragmatic breathing is, its benefits and uses, and the powerful 3-part process.
The gist: There's nothing more frustrating to a coach than having a player who isn't coachable. They rely on talent and don't listen to feedback. Consequently, he or she doesn't reach his or her potential.
This post provides coaches (and parents) with 2 strategies to help a seemingly un-coachable player to develop a more productive mindset – one where he or she will listen to feedback and focus on getting better.
Bonus: 10 Practical Ways to Foster a Growth Mindset in Your Athletes – a list of proven strategies coaches can use in the locker room, during practice, and in game-time situations.
The gist: Good coaches know the value of discipline. But, great coaches know the value of accountability. In this post you'll learn the differences between teams who have a climate of accountability and those who don't.
You'll also discover who should really be holding your athletes accountable. The answer may surprise you.
Bonus: 8 Ways to Cultivate a Climate of Accountability – a checklist to help you build a team that holds each other accountable.
Free Download
As an added bonus to celebrate an awesome year, I want to share with you this year's super-popular coaches guide – The Confidence Playbook: A Coaches Guide for Building Confidence in Athletes.
In this guide you'll discover:
The two dangers of overconfidence
What confidence really means
Three tangible ways confidence impacts performance

Six methods for building confidence

Nine tips to build confidence in practice
Nine tips to build confidence in competition
Click the button below and add this playbook to your coaching toolkit.
I hope you've enjoyed the rundown of my 10 best posts to help coaches build culture, mental toughness, and resilience from 2016.
Definitely take advantage of the bonuses – downloadable posters, tips, & coaching guides.
Thank you so much for sharing some of your valuable time with me this year. Stay plugged in because I've got some exciting new resources coming your way in 2017!
Question: What topic would you like me to cover in 2017?
I'd love to hear from you in the comments below, or on Facebook or Twitter.
Links mentioned in this post: