Dabo Swinney is an unlikely character to lead an unlikely team to the top of a dog-eat-dog sport. On January 12, 2017 he led the Clemson Tigers to their second Football School (FBS) National Championship game in as many years. This time Clemson came away the victor in a rematch for the ages against the powerhouse Alabama Crimson Tide. Underneath the underdog story and never say die attitude there is much we can learn from Tiger's head coach Dabo Swinney.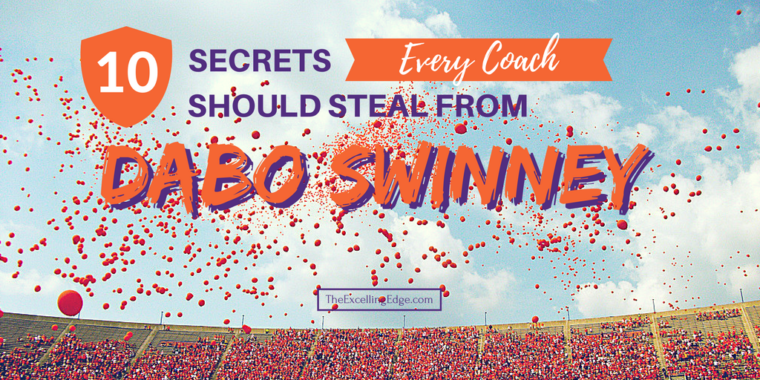 Iron Sharpens Iron
If you want to be the best coach you can be, then you'd be wise to learn from those who've trekked where you want to go – the top. Dabo Swinney is certainly at the top of the college football mountain. He led the Clemson Tigers to their first championship since 1981.
I devoured post-game coverage, video clips, and news articles outlining Clemson's climb to the top. In them I found, as expected, a number of lessons to be learned from head coach Dabo Swinney. Allow me to share of few with you.
10 Secrets from Dabo
Even if you aren't a coach, I believe that leaders at all levels can apply these 10 secrets from Dabo.
1. Be an "Over-Believer."
In Win in the Locker Room First, Jon Gordon writes, "When asked how Clemson has achieved at least 10 wins in each of the past four [now five] seasons for the first time in school history, Dabo said, 'People often call me an overachiever, but I'm not an overachiever, I'm an over-believer.'"
In fact, Swinney believes in his team more than they believe in themselves. Reflecting on his relationship with Clemson football, Jon Gordon recently wrote that Swinney's belief, "raises the level of belief in his coaches and players."
During his halftime speech, Dabo told the team that they were going to win it. He didn't know how, but they would win.
2. Empower Your Top Performers.
Due to Swinney's belief in his staff and team, he entrusts them to make key decisions. With six seconds left on the game clock in Tampa, he trusted his co-offensive coordinators Jeff Scott and Tony Elliott, and quarterback Deshaun Watson to win the game.
Jeff Scott said, "We're here to win it," when some might have expected Clemson to kick the field goal and settle for overtime. Instead they put the ball in Watson's hands, believing in him to either win the game with a touchdown or leave enough time on the clock to kick the tying field goal. He couldn't let the clock run out. So on the 99th offensive snap, Watson sprinted out to his right and hit Renfrow in the chest for the win.
3. Show Your Team You Care.
Swinney lives what he preaches: family, love, and fun. He's like a father doting on his children. In Thad Turnipseed, a Clemson staffer said, "You fear Dabo because you love him so much."
During his post-game interview Dabo recounted his comments to his team at halftime. He told them, "the difference in the game was going to be love. My word all year has been love. And I told them that tonight we were going to win it because we love each other."
4. Remember That Life is Bigger Than Football.
Dabo said, "My driving force in this business is to create and build great men and to do that, you have to have great relationships."
Swinney further punctuated his point by saying, "The value of life is measured in relationships, not results or riches."
He cherishes most the moments when former players have thanked him for the positive impact he has made in their lives. He wants his players to learn to succeed in life, not just on the gridiron.
How well is he doing? If the behavior of a bunch of college age young men is an indicator, then there is one hotel employee who is convinced. In a tweet by Jon Gordon, a bartender from the team hotel in Tampa said he'd never had a better group stay there.
Bartender at Clemson team hotel in Tampa told me that they were the best group of young men he's ever had there. He said by a long shot!

— Jon Gordon (@JonGordon11) January 11, 2017
5. Remember Where You Came From.
In Dabo's emotional post-game interview he made sure to thank the people who helped him along the way.
He thanked God. He thanked his mom and wife. He thanked Clemon's past athletics director Terry Don Phillips who hired him to be the head coach in 2008.
Swinney knows he did not become successful on his own merit. None of us do. Part of humility is remembering where you can from and crediting the people who believed in you, gave you a chance, and helped you get where you are today.
6. Lead with a Compelling Vision.
In Glendale, Arizona last January, Clemson players gathered around their coach after losing the National Championship to Alabama. His message wasn't what you'd expect. In the shadow of defeat, Dabo was already inspiring his team for next season. He told them they'd be coming back next year. He painted a picture for them of what the future held for Clemson football and what they were about to accomplish.
From the moment he was named head coach of the Clemson Tigers in 2008, he has led with a vivid and compelling vision for the football program. It's built around hard work, talent, team, and of course fun.
7. Establish Clear Expectations.
Dabo sets high standards for his players and coaches. He communicates them clearly and consistently so everyone is on the same page, moving in the same direction.
According to a Sports Illustrated's Brian Hamilton, the walls in the team's meeting room serve to remind players daily of these expectations. One wall lists the 16 team commandments and the other lists the five team goals for every season.
Senior linebacker, Ben Boulware, calls Clemson football a, "stress-free environment." Not what you'd expect from a highly competitive championship winning program. However, when everyone knows what's expected, knows the standards and goals, whatever stress there may be isn't negative. It is focused on winning.
8. Have Fun!
The 16th and final team commandment Dabo demands of his team is "Have Fun." It's who he is and it's a characteristic woven within the fabric of Clemson football.
Tiger's wide receiver, Mike Williams, may feel bad for his buddies at other SEC schools. He said, "I feel like we're having more fun than them. It's businesslike or they [football programs] don't like it."
"[Swinney] is showing that yes, you can win at a high level, but you can have a good time doing it, too," said co-offensive coordinator Elliott.
Clemson is taking fun to a whole new level with their $50 million training facility. Brain Hamilton wrote, "The new home for Clemson football is in many ways a monument to fun." It includes a virtual reality room, nine-hole miniature golf course, pool tables, bowling alley, and even a 33ft. slide among more football and academic-related areas you'd expect.
Sure, winning is fun. But why not enjoy the process it takes to get there?
9. Seize Your Opportunities.
Winston Churchill said that optimists see the opportunity in every challenge. I think its fair to say Dabo is an optimistic thinker by any definition. He certainly knows how to find opportunities in life's challenges. As someone who embraces the familiar role of an underdog, Swinney is always ready to capitalize on the opportunities he's given – as a walk-on wide receiver for Alabama, graduate assistant, or the head coach of Clemson.
When the clock was ticking down the final seconds of the National Championship game, Dabo could have gone for the tying field goal. Instead he chose to seize the opportunity to win.
"Coach Swinney said, 'Hey, boys, if you want to be a champ, you gotta go win it,'" recalled Clemson co-offensive coordinator Tony Elliott. "He said that on the headset. Let's get our best play. Let's get it dialed up. If it's not there, then we'll kick the field goal. But let's go try and win it."
10. Never Give Up.
"Believe it can be done," is what Dabo Swinney said he'd name his biography. An article titled, He Overcome Pain and Poverty to Reach New Heights says it all.
Swinney faced more than his share of adversity, yet he never game up. When talking about sharing a bedroom with his mom while he played football for Alabama, Swinney said, "When you're in the middle of situations in your life, you just make the best of it. That's kind of how I've always lived my life. That's to me what true peace and happiness is all about."
He never gave up in high school when he and his mom bounced around, living with family and friends, trying to make ends meet. He never gave up when he became one of the only two players out of 46 to survive the walk-on program to the Crimson Tide football team in March of 1989.
He never game up when people doubted him when he was named Clemson's new head coach in 2008 (despite never being a coordinator).
He never game up when Clemson failed to reach the top of the mountain of college football, losing the National Championship to Alabama in 2016.
Now, the Clemson Tigers are College Football Playoffs National Champions.
Dare to Be Different
If you take nothing else away from these 10 secrets of Dabo's success, heed his courage to be himself. You can't impersonate another coach; however, you can learn from him or her. Allow these lessons to merge with your personality, beliefs, and coaching style. This is what Dabo has done, as have many great coaches throughout the years.
Never become complacent. Strive to learn and grow.
Question: What stands out to you about Dabo?
Link: