Clutch is what we call athletes who hit the game winner, make the save, or knock in the tying run when its all on the line. Many athletes dream of being clutch, but few truly are. However, coaches can teach their players to come through under pressure, to be clutch.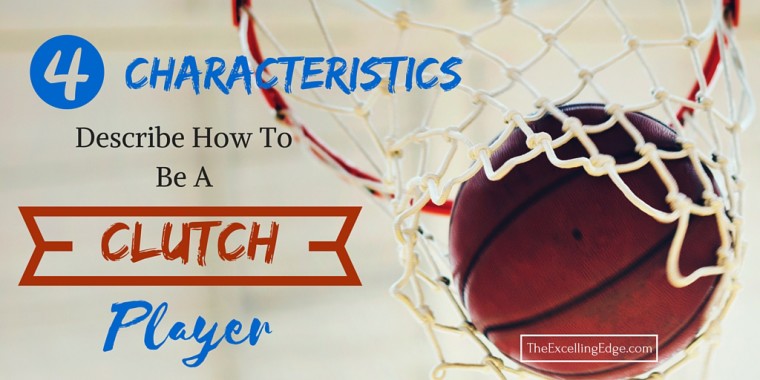 I Trained To Be Clutch
As a kid, I spent countless hours in the driveway shooting hoops. Thousands of times, I counted down 5…4…evading phantom defenders…3…2…driving to the hoop…1.
Sometimes I made it. Sometimes I turned back the clock. I wanted to be clutch. I wanted to be the hero. I wanted to come through for my team.
A Legendary Clutch Player
Michael Jordan, his Airness, is the epitome of clutch. Probably the most famous of his examples came in 1997. Jordan had the flu heading into Game 5 of the NBA Finals. The Bulls were facing the Utah Jazz and the series was tied 2-2, in a best of seven series. Not only did Jordan put up 38 points, but as the clock ticked down, he knocked down a crucial 3 point basket over John Stockton to put the Bulls ahead by 3. That's clutch!
To relive the magic, check out these highlights:
Four Characteristics of Clutch
What separates those athletes who are clutch and those who aren't? Four characteristics describe what it means to be clutch.
1. Confident
Athletes who believe in themselves and their abilities are willing to step up. They leverage all sources of confidence to bolster this belief.
2. Composed
Athletes who embrace nerves and manage their emotions are in control under pressure. Composure is critical to performing in the clutch.
3. Present-Focused
Athletes who are focused in the here-and-now are less distracted. They are better able to lock in on the task at hand and rely on instinct and training rather than over-thinking.
4. Not Afraid to Fail
Athletes who are willing to take risks and accept full responsibility are more likely to step up. They aren't afraid to make a mistake or blow the game because these athletes don't let failure define them.
These 4 characteristics combine to drive a player's attitude to want the ball in their hands.
Free Download
To help coaches cultivate a clutch mentality in their athletes, check out this free PDF: 18 Tips To Help Coaches Cultivate Confidence.
Cultivate Clutch In Your Team
Coaches want clutch players. Athletes want to be that clutch player for their teams. These four characteristics are learnable and trainable. You can foster and cultivate each of the clutch characteristics in their athletes.
Question: How would you describe a clutch player? I'd love to hear from you in the comments below, or on Facebook or Twitter.
Links: