Superteams load their rosters with high-dollar free agents in an attempt to win a single championship. They poach talent from their competition to tip the scales in their favor. However, the notion that you have to be a Superteam to win is a myth. In fact, most Superteams flop. A closer look at two recent victors reveals four secrets to their success.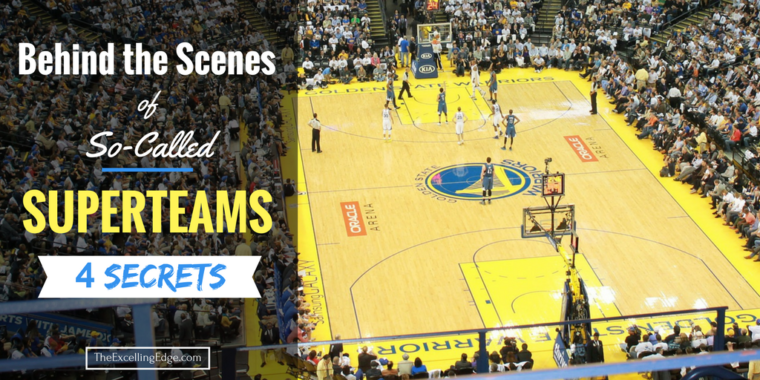 The Illusion of Superteams
Kevin Durant adamantly dismissed notions that this year's NBA Championship Golden State Warriors are a Superteam. Similar accusations have been made of other championship teams such as the Chicago Cubs, winners the 2016 World Series.
Yet, neither the Warriors, Cubs, or most other championship teams have won titles by loading their rosters with high-priced free agents.
Durant said, "Superteam? No, we just work extremely well together." As evidence, he pointed the media to the over-looked talent that lines the Warrior's bench. Despite being passed up by six teams in the 2009 draft, Steph Curry went on to earn back-to-back league MVPs. Two years later the Warriors added the firepower of Klay Thompson with their 11th pick in the draft. This year's Defensive Player of the Year, Draymond Green, was drafted in the 2nd round with the 35th pick.
The Warriors built one of the best teams in NBA history with home-grown talent. They won the title in 2015 and then added Durant after losing to the Cleveland Cavaliers in 2016.
The same is true for the World Series Champion Chicago Cubs. The core of their roster is built around Anthony Rizzo, Kyle Schwarber, and Kris Bryant – all drafted by the Cubs and cultivated through their farm system.
The illusion is that these superstars are an overnight success. Rarely is that the case.
4 Secrets to Championship Success (that Superteams lack)
Most champions aren't Superteams at all. In fact there are 4 behind-the-scenes secrets that make dominant teams so successful.
1. Selfless
Durant said that selflessness is a major contributor to the Warriors' success (a 207-39 record in the past three seasons). He said, "We make each other better and it's not about who gets the credit."
Egos can easily get in the way of a team's success. Coaches will do well to promote a "We Over Me" philosophy. Teach your athletes to play harder for the name on the front of their jersey than the one on the back.
2. Hard Working
Practice matters. Part of Steve Kerr's philosophy as the Golden State head coach is that, "There are no magic plays. You win based on effort, unmet focus, and being brilliant at the little details."
After winning league MVP in 2015, Steph Curry continued to work at his game. After a team dinner while on the road, an equipment manager caught Curry getting in extra shots at the arena. He has a prototypical growth mindset and is never satisfied.
Coaches who promote a growth mindset will fuel their team's work ethic and internal motivation to never stop improving.
3. Character
Championship teams are looking for more than talent. They want athletes who are great teammates, leaders in the locker room, and have a an optimistic attitude.
The Chicago Cubs are a tremendous example of this. General Manager Theo Epstein revamped their entire scouting process to collect more information about a player's character: attitude, humility, coachability, and resilience. He wanted to know how they treated the team's support staff. Scouts dug into prospect's lives to find out how they've dealt with adversity (on and off the field).
From Theo's perspective, the Boston RedSox fell apart, not because they lacked talent, but because they lacked character in their locker room. Some players were ego-driven, prideful, and not playing the game the right way.
Coaches who select for and develop the character of their athletes will increase their chances of winning – and winning consistently over time. Not one and done.
4. Teamwork
When the Warriors first signed Keven Durant, the head coach, Steve Kerr, was bombarded with questions about how it would affect the team's chemistry.
Durant's perspective, after winning the NBA title and Finals MVP, was that, "[Kerr] puts us in position to maximize our strengths."
As the old saying goes, There Is No I In Team. Michael Jordan put it another way, "Talent wins games, but teamwork and intelligence wins championships."
Championship teams put a premium on teamwork, chemistry, and cohesion. Organizations and coaches who do the same will reap the rewards!
Bonus Download
To help you avoid the Superteam myth, download the Superteams vs Legendary Teams poster, outlining the 5 Factors that Separate Superteams from Legendary Teams.
Play The Right Way
As you can see, it takes more than talent to win championships. Assembling a Superteam doesn't guarantee success – just ask the 2004 USA Basketball mens team who took home the bronze medal from the Olympics in Athens, an utter failure. Instead, help your team develop the four qualities of championship teams mentioned above. Teach them that in order to win, they must become selfless, hard working teammates with high character.
As Jon Gordon puts it, "Team beats talent when talent isn't a team."
Question: What else separates Legendary Teams from Superteams?
I'd love to hear from you in the comments below, or on Facebook or Twitter.
Links: