Oklahoma Sooner's senior guard Buddy Hield was awarded the Naismith trophy, given to the NCAA men's top player of the year. However, Buddy's talent on the basketball court has been work in progress. As a freshman you wouldn't have guessed his trajectory, but his insatiable desire for mastery has served him well. This mastery mentality is shared by the best athletes in the world. It is a mentality that starts early and is never satisfied.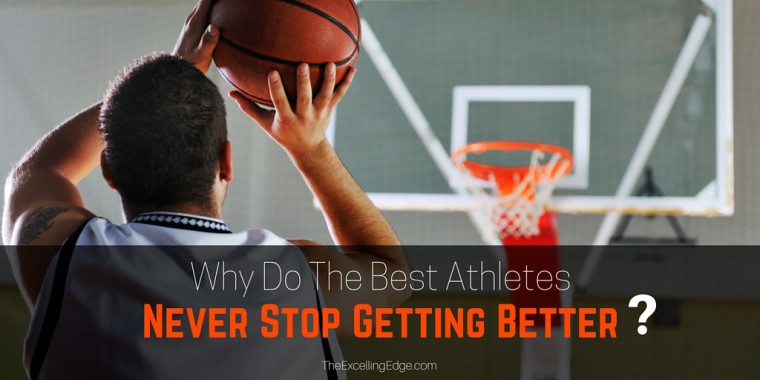 The Best Athletes Keep Getting Better
Recently I've been talking with friends about today's elite athletes. One characteristic that I continue to see is their determination to always get better.
Athletes at the top of their sport could easily be satisfied with their abilities, dominating opponents. But they aren't. The best athletes keep getting better. It isn't that they demand perfection, but excellence. They have a tremendous drive to master every aspect of their sport. I call this a mastery mentality.
Player of the Year
As an incoming freshman in 2012, Buddy Hield literally shot from his hip, according to USA Today. As a college basketball player, shots like that would be stuffed in his face again and again. He had to entirely overhaul his jump shot and rebuild his shooting technique.
Oklahoma assistant coach Chris Crutchfield fondly recalls Hield's dedication to improving his jumper with the help of "the gun," a ball machine which catches a player's shots in a net and returns the ball to them. Crutchfield remembered, "We'd get done with practice and he would go pull out that shooting machine and set it up."
Buddy would finish practice with the team and then spend another two hours working on his technique and shooting three pointers with the the gun.
Coach Crutchfield said, "There's a drive in him that started a long time ago back in the Bahamas, when people told him he wasn't going to be anything…I think that created this drive we're seeing today."
Did his hard work pay off? As a freshman, Buddy shot 23.8% from behind the arc. As a senior he shot 45.6% from three-point range.
Components of a Mastery Mentality
What does a mastery mentality entail? How do you coach your athletes to have a mastery mentality?
A mastery mentality includes 3 coachable components.
1. Growth Mindset
Psychologist Carol Dweck, author of Mindsets: The New Psychology of Success, identifies mindset as the difference maker in those who achieve and succeed and those who don't. Dweck identifies people as having either a fixed mindset or a growth mindset. People in a growth mindset believe their intelligence, talent, and abilities can be developed through persistence and hard work. Their genetics and talents are only the foundation. This cultivates a insatiable desire to learn, improve, and grow.
To learn more about the the benefits of a growth mindset, click here.
After winning the NBA's Most Valuable Player award last season, as well as a national championship, Golden State's Steph Curry (aka. the human cheat code), has gotten even better. He believes that he has room to improve and that hard work pays off.
In a recent article in Sports Illustrated, Rick Reilly shared a story from the Warriors equipment manager Eric Housen. According to Housen, he found Steph Curry and his trainers at the gym after a late team dinner, on the road, after the Dubs were off to a 10-0 start early in the season. Housen told Reilly, "We were undefeated. [Curry] was playing a ton of minutes, and yet here he was, still trying to get better when, essentially, he's the best player in the league."
Coaching a Growth Mindset: Praise the process (strategy, skill, and effort) that led an athlete to a successful outcome.
2. Attention to Detail
Great athletes don't leave anything to chance. They have a plan, a routine, for everything. They are keenly aware of themselves, their teammates, and their opponents.
Two-time Super Bowl Champion quarterback Payton Manning is a prime example of this. Dating from his time at the University of Tennessee, Payton has been known for his relentless preparation. He knew his offensive playbook like the back of his hand. He watched so much film that he could read the opponent's defensive set in seconds – and audible to the best play. Omaha!
Coaching Attention to Detail: Quiz players about rules, opponent tendencies, and what to do in different scenarios.
3. Always Get Better Attitude
In a documentary about Dirk Nowitzki, I learned the scientific method and genius behind his game. I also learned about his offseason rigor. Between each NBA season, Dirk and his private coach Holger Geschwindner added another tool to Dirk's toolbox.
This pursuit of endless improvement paid off. Dirk Nowitzki is only the second player since 2004 to lead his team to a NBA championship without the help of another All-Star. Pretty impressive.
Coaching an Always Get Better Attitude: Ask players to identify two successes and one area for improvement after every practice and competition. This exercise solidifies how players are improving and what they can do to get better next time out.
How To Act Like a Champion
The greatest athletes in sports have a mastery mentality. Steph, Payton, Dirk, and many more demonstrate the work ethic of champions. Champions don't sit on their laurels. They aren't complacent. They don't settle.
Great athletes pursue excellence at every opportunity. They act like hard work pays off. They act like success is in the details. Great athletes act like they can always get better. That's what it means to act like a champion.
Question: What is one thing you can do to encourage a mastery mentality in your athletes? I'd love to hear from you in the comments below, or on Facebook or Twitter.
Links: