Coaching is like parenting in that it's largely based on past experiences. You may choose to copy the best coaches you've seen and do the opposite of the worst. Perhaps you've had some good mentors along the way. Regardless, many coaches tend to be either more supportive or more demanding. Which category do you align with? More importantly, which gets the best results?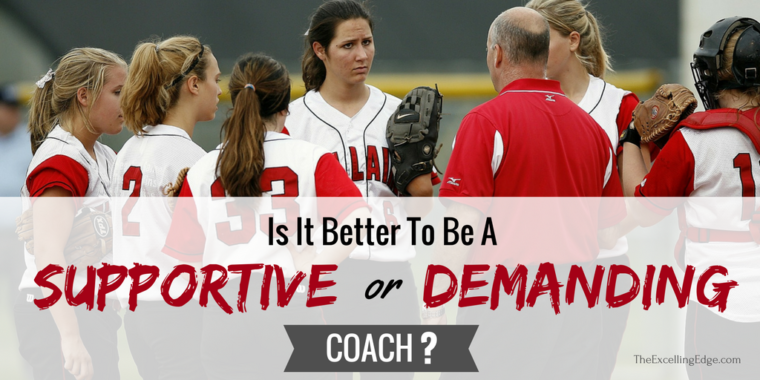 Not Polar Opposites
Often coaches get labeled as either "militaristic" or "a player's coach." Interestingly, both seem to carry a negative connotation.
A "militaristic" coaching style is typically seen as over-bearing, demeaning, negative, and fear-driven.
A "player's coach" coaching style is typically seen as soft, buddy-buddy, and focused on fun rather than success.
As you might expect, neither of these two coaching styles is best.
However, you may be left wondering, "Which coaching style is gets the best results?"
Supportive and Demanding
Recently, a new term has emerged to describe many of today's championship coaches. Their style is described as "positive coaching."
Before you jump to conclusions about another cheerleader on the sidelines, consider a few names that fall into this category.
Joe Maddon – Chicago Cubs
Dabo Swinney – Clemson Tigers Football
Gary Gilmore – Coastal Carolina Baseball
Anson Dorrance – University of North Carolina Women's Soccer
Amy Bokker – Stanford University Women's Lacrosse
These are all highly successful coaches who are leveraging the power that comes from being both supportive and demanding.
Brad Stevens sums up positive coaching well in this short video:
Coaches Can Be Supportive and Demanding
Being supportive or demanding of players is no longer seen as polar opposites. In fact, they are two sides of the same coin.
In her book Grit, psychologist and University of Pennsylvania professor Angela Duckworth (mentioned by Brad Stevens in the video above) writes that there is "no either/or trade-off" between being supportive and demanding. She explains that the best coaches (including teachers, parents, and leaders) demonstrate care and respect while simultaneously enforcing high expectations.
The two are not mutually exclusive.
Why Be Supportive and Demanding?
Yes, coaches can be both supportive and demanding. Relationships built through trust and respect afford you the opportunity to be demanding and hold your athletes to a high standard.
1. Better People
In a study of 10,000 U.S. teens, psychologist Larry Steinberg found that those with "warm, respectful, and demanding parents earned high grades in school, were more self-reliant, suffered from less anxiety and depression, and were less likely to engage in delinquent behavior."
By being both supportive and demanding you can positively impact athlete's lives through sport – which is why many of you became a coach in the first place.
2. Increased Effort
Coaches who demonstrate a strong belief in their athletes see that their athletes demonstrate more effort and commitment.
Perhaps this is why Dabo Swinney calls himself an "over-believer." This belief, which Swinney communicates to his team consistently, has helped his coaches and players believe more in themselves.
When athletes have confidence and believe in themselves their performance goes up.
3. Greater Commitment
Research confirms that doing hard things teaches athletes to do other hard things. Psychologist Robert Eisenberger termed this "learned industriousness."
For coaches, this means it pays off to hold your athletes to high standards. They need to be challenged and pushed to reach their potential.
In fact Tim Elmore, author of Generation iY, encourages coaches to leverage the desire today's youth have for participating in "projects that are very important and almost impossible to accomplish."
By being both supportive and demanding, coaches can challenge players to work hard and achieve big goals. In doing so, you'll foster a greater sense of purpose, stronger work ethic, and a relentless perseverance.
Be a Supportive and Demanding Coach
Elmore reminds us that today's youth are both high performance and high maintenance. Athletes need to be nurtured and challenged. Coaches who build strong relationships with their athletes, believe in them, and care about them, will be the coaches who can challenge their teams to reach ever-higher levels of performance.
Being both supportive and demanding is the only path that leads to sustained success at any level.
Question: How are you demonstrating support and demanding high standards with your athletes?
I'd love to hear from you in the comments below, or on Facebook or Twitter.
Links: