Good coaches put a priority on their team's morale. When morale is high, individuals experience greater confidence, effort, and satisfaction. We perform better when we enjoy what we're doing and the people we work with. Ultimately, coaches set the tone for a team's morale.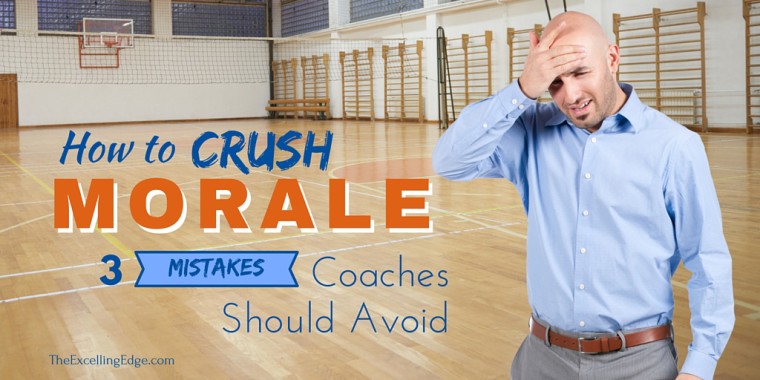 Great Coaches Put a Premium on Morale
Steve Kerr, Head Coach for the NBA Champion Golden State Warriors, knows how to boost morale. A Sports Illustrated article by Rick Reilly tells about how Kerr has found some creative ways to boost the Warriors' morale and cohesion. He's blown off practices to take the team bowling, play touch football, and grab early team dinners.
Coach Kerr has also turned boring film sessions into opportunities for players to call each other out (accountability) in humorous ways like cutting to Steph Curry's son yawning after a play when Curry "fell asleep on his man."
Providing opportunities for players to be themselves, to display their personalities, is central to Kerr's philosophy for the team to have fun. When athletes are having fun, morale is up. When morale is up, so is performance. Note that Golden State won 73 regular season games, breaking the NBA's record set by the '95-'96 Chicago Bulls.
3 Morale Crushing Mistakes
While you'd probably agree that morale is critical for success, you may be unintentionally eroding it. Some coach's actions are crushing their team's morale and limiting their team's potential and performance.
Coaches who avoid these 3 morale crushing mistakes give their teams a better chance of success.
1. Demonstrating "Do as I say, not as I do" behavior.
There is power in leading by example. Whether it is continuing to hone your skills or controlling emotions on the sidelines, don't ask players to do things you aren't demonstrating.
Players tend to resent and distrust leaders who don't walk the talk.
2. Omitting rationale for drills and decisions.
Everything great coaches do has a reason and purpose. However, one thing that separates average from great coaches is whether or not they communicate their rationales to their players.
In the absence of a stated rationale, Daniel Pink, author of Drive, writes that team members will do one of two things: 1) comply or 2) defy. The first lacks buy-in; the second undermines authority. Neither increase morale.
Providing rationale for drills and decisions communicates purpose, generates buy-in, and increases motivation. All are ingredients of high morale.
When coaches take the time to explain how drills will improve athletes' skills or why personnel decisions were made, they boost morale and improve their team's attitude and effort.
3. Providing criticism and withholding praise.
Too often I hear coaches tell players what they're doing wrong and how to fix it. Or, after a game coaches highlight what the team needs to do better without noting areas where they performed well.
While criticism is essential for making corrections and development, praising the process  increases effort and persistence, attribute failure to effort, are more resilient, and expect improvement and success. Praising the process even encourages a growth mindset.
When athletes exclusively receive criticism, motivation, confidence, and performance all suffer in the long run.
Foster Your Team's Morale
Put a premium on morale and avoid the behaviors that crush it. Great coaches lead by example, share their rationale, and praise the process. These are the actions that boost trust, confidence, motivation, and morale across your team. When your team feels connected, cohesive, and bought in, there is no limit to their ability to reach their potential.
Which of these mistakes have you made recently? I'd love to hear from you in the comments below, or on Facebook or Twitter.
Links: