What coach doesn't want athletes to take responsibility for their actions? If you're like most coaches I talk to, you prefer high integrity, high character competitors. You want championship level teammates, not just talent. However, athletes make mistakes. When they do, their coaches can encourage them to take the high road – responsibility.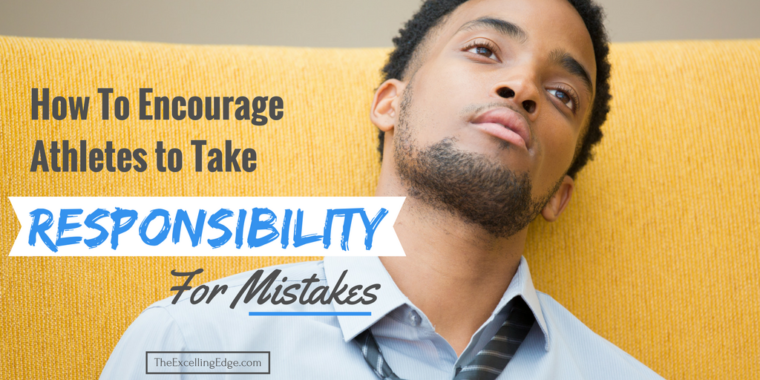 A Big League Mistake
Madison Bumgarner, the San Francisco Giants ace, is one recent example of an athlete who made a bad decision and hurt his team.
He was injured riding a dirt bike on an off-day, suffering a shoulder sprain prior to a series against the Rockies. It turns out he'll likely be out until the All-Star Break.
Bumgarner told reporters, "I realize this was definitely not the most responsible decision." Additionally, he personally apologized to each of his teammates.
3 Parts of Taking Responsibility
Every coach wants his or her players to take responsibility for their mistakes. It's part of developing not only great athletes, but great people.
In teaching athletes to take responsibility for their decisions and mistakes, I see three actions coaches can take.
1. Encourage athletes to take ownership. 
Ownership is the essence of responsibility. This means not allowing athletes to deflect or excuse their attitudes, decisions, or behavior.
Bumgarner may regret his decision or actions, but he still takes ownership of them.
Taking ownership sounds like, "I messed up," or "That's my fault."
2. Encourage athletes to apologize to their teammates.
Apologizing can be difficult. It often requires athletes to swallow their pride and admit their mistakes to their peers.
This fosters accountability, respect, and trust within the team.
"My bad," doesn't cut it here.  It needs to be a genuine apology.
3. Ask them to develop a game plan for improvement.
Making a mistake once may be forgivable. But making the same mistake again is irresponsible.
Having players create an action plan guards against this error.
Consider the following areas:
Decision Making
Skill Improvement
Impulsiveness
Emotional Control
Encourage the athlete to identify which decision he or she needs to make in the future. If he missed crucial free throws, what could he do in practice to improve his skills? How could she better control her temper? How could he overcome nervousness or anxiety?
A Life Lesson in Sports
A great thing about sports is that it can teach athletes about like. In life, as in sports, people make mistakes. The key is to take responsibility for those attitudes, decisions, and behaviors. Coaches can help athletes learn this life lesson by encouraging ownership and apologies, and by facilitating an action plan for lessons learned. Show your athletes what it means to take responsibility for their mistakes.
Question: What other ways do you help your athletes to take responsibility for their mistakes?
I'd love to hear from you in the comments below, or on Facebook or Twitter.
Links: