Injuries happen. Whether its a strain, sprain, tear, or brake, sports can be rough on an athlete's body. That leads coaches to determine what to do with injured athletes. Are you making the right call?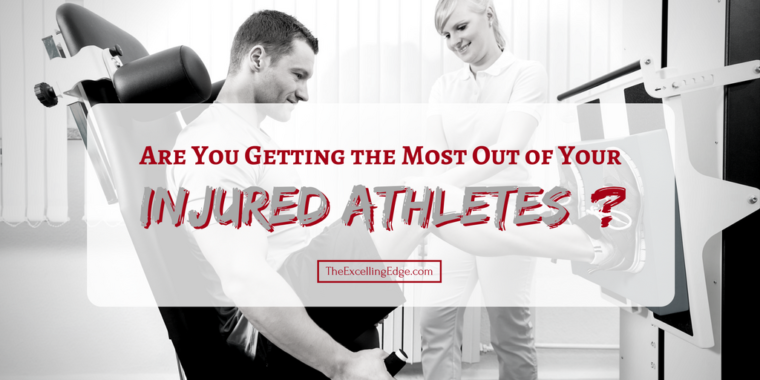 Why Coaches Shouldn't Separate Injured Athletes
Unfortunately, I have encountered many teams who ostracize their injured athletes. The coaches or staff tell the players to see the trainers, do their rehab, and return to the team once they're cleared to play. While there may be special cases at times, this approach hurts the player and the team.
When injured athletes are separated from their teams until they can contribute, there are multiple negative consequences.
They don't feel supported or cared about by their coaches.
They may become less motivated and will not work as hard on their rehabilitation.
They experience greater degradation in abilities compared to athletes who remain engaged.
A Buckeye Embraces a New Role
Freshman quarterback J.T. Barrett broke his ankle on the opening play of the 4th quarter in the Ohio State vs. Michigan game in 2014. This was their last game of the regular season. Barrett was their second string QB as first string Braxton Miller was already out.
The next man up was sophomore Cardale Jones who had thrown only fourteen passes all season. He would be starting his first game for the Buckeyes in the Big Ten Championship against a formidable Wisconsin team.
Despite his injury, J.T. Barrett stepped up to help his team, especially Cardale Jones. In his book, Above the Line, head coach Urban Myer explained that Barrett helped his teammate "with his film study, with his reads, with his mental reps. He boosted him at every turn."
Cardale went on to lead the Buckeyes to win the Big Ten championship, the Sugar Bowl, and the first ever College Football Playoff Championship in 2014.
How to Keep Injured Athletes Engaged
Coaches don't have to exile injured athletes. In fact here are 4 productive ways to keep injured athletes engaged and helping make their teams better.
1. Take Mental Reps
While the athlete may not be able to physically participate in drills and run plays, they can use imagery. I call these mental reps. Research shows that when physical practice isn't an option, mental reps are the best way to keep skills sharp.
A quarterback can still make reads at the line of scrimmage. A soccer player can still visualize her footwork and defense. A shortstop can still imagine fielding ground balls and making the throw.
Mental reps keep muscle memory sharp while an athlete recovers from injury.
2. Workout with Teammates
Numerous professionals have talked about being inspired by the work ethic of their injured teammates. Encourage injured athletes to get treatment while the team is in the training room. Align rehabilitation training for injured athletes with the time their teammates will be in the gym. Let their teammates see them working hard.
As an added bonus, this keeps relationships strong. Teammates hold one another accountable, even for rehabilitation. Encourage them to push and motivate one another.
3. Coach Their Peers
In practice, you can utilize an injured player as an additional coach. This is especially true for upperclassmen. Plus, you learn something at a deeper level when you teach it.
Not only will they be helping make their teammates better while they rehab, but they'll have a better handle on fundamentals, technique, game plans, and strategy when they get back on the competition surface.
4. Scouting Opponents
Injured athletes can serve their team as another set of eyes on upcoming opponents. Watching film can help them better coach their teammates (see number 3).
It also helps hone their skills at recognizing plays, tendencies, and patterns of opponents.
Bonus Download
To help you get the most out of your injured athletes and keep them engaged, I created this free poster you can hang in your locker room or share with them.
Win – Win
The bottom line is to keep injured athletes engaged in the team rather than exiling them. Keeping injured players plugged in helps them stay motivated, minimizes the time until they return to peak form, and helps the team improve. It really is a win – win.
Question: How else do you keep your injured athletes engaged?
I'd love to hear from you in the comments below, or on Facebook or Twitter.
Links: