Great teams pursue big goals. They go after the BHAGS (big, hairy, audacious goals) that Jim Collins noted of top performing organizations in Good to Great. However, setting big goals can be scary for your team. What if they fail? Big goals come with pressure and expectations. Show your team how to embrace the fear and chase big goals.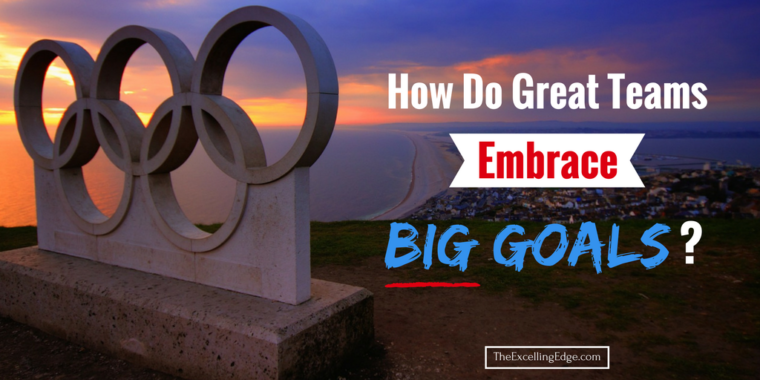 How World Series Champions Embrace a Big Goal
"Embrace the target," was the message from manager Joe Madden as the Cubs began the 2016 MLB season.
The phase had a double meaning as the Chicago Cubs started the season with high expectations. Madden didn't want his team to fear the target that would be on their backs all season. At the same time he knew the pressure that comes with aiming for a spot in the World Series.
He wanted his players to accept and embrace these truths rather than be fearful of them.
Thus, "Embrace the target" became the first of "six key principles for the season." Embrace they did as they came from behind and won the World Series in dramatic fashion, breaking the 108 year drought.
3 Ways Great Teams Embrace Big Goals
Help your team embrace their lofty goals by incorporating these 3 suggestions.
1. Post The Goal
Post your team goals for everyone on the team to see.
Recent research by Dr. Gail Matthews of Dominican University found that writing down our goals makes us 42% more likely to achieve them.
2. Talk About The Goal
Keeping your team's goal top-of-mind is powerful. The goal brings purpose to your process.
David Ross, player on the 2016 World Series Champion Chicago Cubs team, said, "I've never been around a team that talked about winning the World Series so much…Every day my teammates and I would…comment on how we were one day closer to winning the World Series."
The Cubs embraced the goal. They didn't hide from it.
3. Leverage the Goal
Remaining focused, motivated, and united throughout a long season is challenging. Remind your team of their goal and what it takes to achieve it when they drift off course.
Use the goal to keep your team committed, accountable, and engaged in every facet of practice and game day.
Help Your Team Embrace Big Goals
Encourage your organization to look fear in the eyes and courageously stand together. When you post the goal where everyone sees it, talk about it often, and leverage it as the unifying purpose for your team, they will begin to embrace it.
Two caveats: 
1. The goal should come from the team collectively. This increases commitment and ownership.
2. The goal should be feasible – I don't say "realistic" because too often people use that as an excuse to limit themselves. However, a goal that is too big for your team quickly becomes laughable and they will settle into mediocrity rather than rise to the challenge.
Question: What are other ways to help your team embrace big goals for their season?
I'd love to hear from you in the comments below, or on Facebook or Twitter.
Links:
Book: Good to Great by Jim Collins
Book: The Cubs Way by Tom Verducci
Post: How to Accomplish Your Goals: Avoid 8 Common Mistakes