In sports there are winners and losers in every competition. While it's better to lose than to beat yourself, failures hurt either way. No player likes to lose, let their teammates down, or fail. However, failure is part of the game and champions know how to keep failure from ruining their mindsets and their games. Are you coaching your athletes to cope well with failure?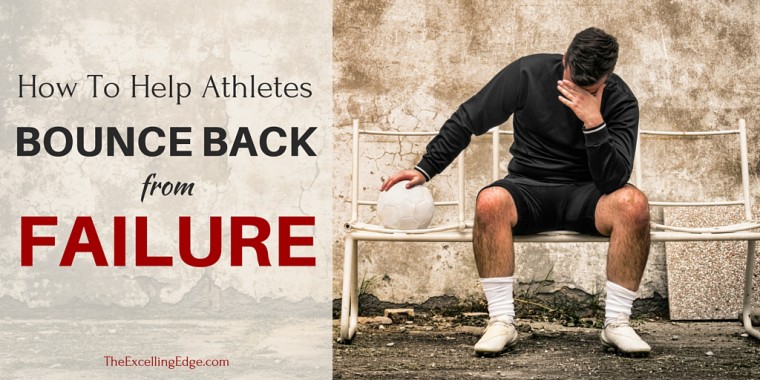 Infamous Failure at The Masters
In the 2016 Masters at Augusta National, Jordan Spieth made history. If only he'd won back-to-back Masters and earned his second consecutive green jacket. But that isn't what happened even though he led by 5 shots on the final round.
On that day Spieth, favored to win the tournament despite not playing his best golf, suffered a meltdown. He led the field, even after hitting bogeys on 10 and 11. Then, aware that he was being timed by tournament officials, he hurried to the 12th tee box unsettled by his performance on the 11th green, perhaps feeling that his lead was slipping away.
On the 12th tee, he chunked it right into Rae's Creek. Understandably flustered, he then faced a drop 80 yards from the pin. His second shot on 12 also found the water, with his giant divot following close behind. He hacked it. If that wasn't ugly enough, he punched his next shot into the bunker. Spieth finally escaped with 7 (a quadruple-bogey) and was 3 strokes behind the eventual champion, Danny Willett.
If an athlete plays sports long enough he or she will ultimately experience failure and disappointment. Athletes will miss the big shot, throw an interception on the final drive, strike out, miss their serve, kick the ball just over the goal, etc. It happens. That's sports.
It's All About Interpretation
When catastrophe strikes, the way in which athletes interpret their failures is critical to their mental toughness and level of play moving forward. The difference is in how an athlete attributes the failure or mistake. A productive view of failure leads to growth, improvement, and better performance. A counterproductive view leads to second guessing, counterproductive thinking, and performance detriments. Let's take a closer look at how you want athletes to view their failures.
When failures happen, mentally tough athletes demonstrate resilience by interpreting failure in 3 specific ways. Teach them to your players so they can bounce back and grow from the most disappointing moments in sports.
1. Failure Isn't Final
Mentally tough athletes understand that failure isn't permanent. Failure this time doesn't equal failure next time.
Each day competing is a new opportunity to succeed. Jordan Spieth will play The Masters again and he'll face the 12th hole again. While he will likely remember his 2016 meltdown, it won't be the final moment. Sure it happened, but failure will only interfere with today's success if you let it.
Athletes are far better off to focus on the possibilities that today brings than to dwell on the failures of yesterday.
2. Failure Is Isolated
Resilient athletes don't view failures as pervasive. They don't let failures become generalized to other parts of their game or life.
Some golfers may think, "Oh no my putting is off. If I can't putt well, my chipping is going to suffer." This kind of thinking puts more pressure on the rest of their games. With added pressure and counterproductive thinking, this is a slippery slope to disaster on the golf course.
I'm sure you've known athletes who think like this. It's delusional.
Just because she missed that putt doesn't mean her putting sucks, or that the wheels are falling off her entire game. It simply means she missed a putt.
On a larger scale, if the failure looks more like Spieth's meltdown, resilient athletes will stay the course and enter the next competition with confidence and determination. They can do that because that meltdown was one isolated incident.
Otherwise, they end up losing as many tournament finals as Great Britain's Andy Murray.
3. Failure Is Controllable
Resilient athletes don't blame other people or other circumstances for their failures. They own them. They take responsibility. Some athletes take this too far and label themselves a failure. Or they may decide they can't succeed in other similar situations because of this failure. This is not the kind of ownership I'm talking about.
When athletes take responsibility for their failures, they are saying, "I can fix this; I can get better." They are saying that the failure can be corrected and steps can be taken to prevent it from happening again. These athletes are taking control of what they can control.
Mentally tough athletes work hard to recover from failure, practice their skills, and bounce back ready for whatever comes next.
Coach Players to Bounce Back from Failure
Being an athlete means you will fail. Moments of failure are some of the toughest times athletes face. As a coach, you can help your players cope with, learn from, and bounce back from failure. Teach your athletes the 3 mentally tough ways to interpret failure. They will be better prepared, tougher, and more resilient.
Question: Which of these interpretations do you see athletes struggle with the most? I'd love to hear from you in the comments below, or on Facebook or Twitter.
Links: