In sports emotions run high. Athletes who struggle with managing their emotions become liabilities to their teams. When an athlete feels defeated he stops trying. When an athlete gets angry she could get a careless penalty. Learning to manage emotions is just as critical as mastering the fundamentals of the sport.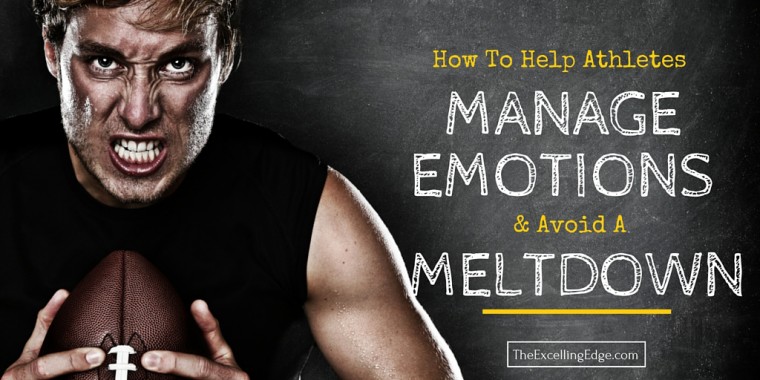 Emotional Meltdowns
Meltdowns become part of the lore and legend of sports. We'll never forget tthe recent punch to the face by Texas Rangers second basemen Rougned Odor that resulted in fines and suspensions. Or, Bobby Knight's infamous chair toss. Players and coaches alike let their emotions get the best of them.
Bleacherreport.com recently published an article titled, "The 10 Craziest Recent Sports Meltdowns." All 10 took place in the last couple of months.
In this year's Wells Fargo Championship PGA Tour event, Zac Blair lost his cool in round two. After missing a birdie putt on the 5th hole he broke his putter over his own head. Subsequently, he was tossed for using a "non-conforming club" to knock it in for par.
Here's the video and Zac's reaction on Twitter following the DQ:
How easily an athlete's emotions can get the best of him…
Why Athletes Let Emotions Take Control
Coaches know what it looks like when athletes lose control of their emotions. Let's be honest, coaches lose control of emotions too.
What are contributing factors to athletes (and coaches) letting their emotions get the best of them?
When an athlete is…
focused on uncontrollables
stuck on a previous mistake
not playing to his/her own expectations
misinterpreting nervous symptoms
engaged in worst-case thinking
fatigued, tired, and worn out
stressed
under pressure
fearing anticipated consequences (getting sat down, losing, making a mistake, blowing an opportunity)
Thoughts Drive Emotions
Ultimately, it's an athlete's thoughts that drive his or her emotions. To manage their emotions, athletes have to first master their thinking.
If an athlete is afraid she'll blow the game she might think, "I'm gonna mess up." Those thoughts drive increases in anxiety which can sabotage performance.
Help Your Athletes Manage Their Emotions
Coaches can help their athletes learn to manage emotions in the heat of battle by promoting these 5 strategies.
Athletes who focus on what they can control or influence experience less anxiety, nervousness, and frustration.
Athletes who avoid getting stuck on mistakes or bad calls are better able to keep their focus in the here and now. Staying in the present moment shields athletes from pressure and counterproductive emotions which can deteriorate performance.
3. Cultivate an attitude of gratitude
Athletes who regularly reflect on what they're grateful for will experience greater control over their emotions.
4. Embrace nervousness as excitement
Athletes who understand the purpose of their body's stress response and interpret these symptoms as excitement experience less fear, worry, and nervousness. The way an athletes views nervousness impacts the emotions he or she feels and his or her performance on the field.
5. Get optimal sleep 
Athletes who sleep 8 hours per night are better equipped to manage their emotions, cope with adversity, and regulate mind and body for better performance.
Instill Composure
As we know, emotions run high in the heat of competition. Athletes want to play their best. They want a fair game. They want to win. However, these same desires can cause athletes to lose control of their emotions.
To capitalize on their passion, motivation, and fight, coaches need to help athletes learn to manage their emotions effectively on and off the field. Like any other skill, it has to be practiced everyday.
Question: What causes your athletes to lose control of their emotions? I'd love to hear from you in the comments below, or on Facebook or Twitter.
Links: