Athletes are often sabotaged by their own worries, doubts, and fears. Feeling threatened is among the worst. When athletes view their circumstance as a threat their confidence goes out the window. They get nervous. Consequently they play tight, hesitant, and weak. What if you could help your athletes turn those threats into opportunities?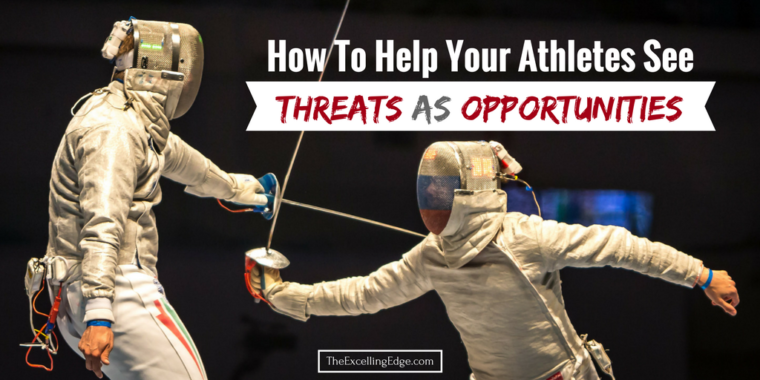 The Greatest Upset of All Time
In 2007, Appalachian State University (FCS) went up to the Big House and beat the Michigan Wolverines (FBS) on their home turf in the season opener, 34 – 32.
The year before, teams had been approved to add an additional game to their schedules and teams were scrambling to lock in opponents.
When Jerry Moore, then Appalachian State head coach, was asked about playing Michigan, he was all for it. As he recalled, "My first thought was, 'Whatever it takes, let's play them.'"
Most people refer to those match-ups as "money games," but Coach Moore called it an "opportunity game."
All week leading up to the game, strength coach, Jeff Dillman, played the Michigan fight song in the weight room. He wanted to piss the guys off. He said he had a gut feeling. He told the back-to-back FCS National Champions that they were more explosive, stronger, and faster than Michigan.
ASU safety, Corey Lynch said, "Our confidence level was as high as any FCS team's could ever be." They believed in the ability of the guys in their locker room regardless of what was on the other side.
Appalachian State stunned Michigan. When they could have been intimidated, anxious, and threatened, they chose to embrace the opportunity. They chose to compete. And they won.
Optimism Illuminates Opportunities
How can you teach your athletes to turn threats into opportunities?
It all starts with developing an optimistic mentality. Optimism is a secret weapon and carries some huge benefits.
Note that optimism isn't simply a "glass half full" delusion. Optimism is a demonstration of our beliefs and directs how we interpret the events, successes, and failures in our lives.
Optimism is also the key to helping athletes view potential threatening situations as opportunities instead.
What do I mean by threatening situations?
These are any situations when an athlete might think his or her abilities won't be sufficient to be successful. Here are a few examples:
Playing a dominant opponent when you aren't one
Playing a level up (either by age, division, tier)
Key injuries left the team tattered
When the score gets lopsided early
A player trying to walk on to a program
Being evaluated (i.e., recruiter in the stands, pro day, etc.)
Sick, ill, or injured but still in the game
How does optimism help athletes see these situations as opportunities?
Research shows that optimistic thinking allows athletes to view potential threats in 3 helpful ways:
1. Focus on Solutions, Not Problems
Optimistic thinkers don't get stuck on what the problem is. They don't say, "Woe is me." Instead, they look for solutions in tough situations.
Their focus and energy is directed toward determining how to overcome the challenge.
2. Focus on What Is Controllable
Optimistic thinkers more accurately estimate how much control they have over a given situation. More importantly, they focus their energy and effort on those things within their control.
An athlete can't control a teammate being injured or how well the other team performs – so they don't waste precious energy on them. Rather, they focus on executing well and playing hard.
3. Hope for the Best Possible Outcome
Optimistic thinkers readily apply the phrase "hope for the best, prepare for the worst."
Hoping for the best, asking "Why not?" rather than "Why me?" focuses athletes on the possibilities instead of the limitations of the situation.
They get more excited about what good can come from the situation, rather than worrying about everything that could go wrong.
Transforming Threats Into Opportunities Boosts Performance
Athletes who interpret their challenges as opportunities perform better than those who don't. An athlete who searches for solutions, directs energy toward only the things he or she can control, and believes good things are about to happen is simply less stressed.
For a more thorough understanding of how optimism may benefit an athlete's performance, click here.
Turn Threats Into Opportunities
By boosting optimism in your players, you'll set them up to make the most of opportunities, even when they may appear challenging. Help your athletes identify solutions, focus on what is controllable, and see the possibilities rather than the threat. Not only will they be confident, but they'll play harder and better as a result.
Question: What is a situation your athletes find threatening?
I'd love to hear from you in the comments below, or on Facebook or Twitter.
Links: