Everyone is looking for an edge in sports. Coaches seek out any possible advantage that could boost their team's performance. Athletes will go to great lengths to test to limits of their potential. The qualities that were once lumped together as intangibles are becoming tangible. Quickly emerging as the latest trend in sports science, sport psychology is bridging the gap in evaluating and developing athlete's "no longer tangibles." Optimism is one such edge.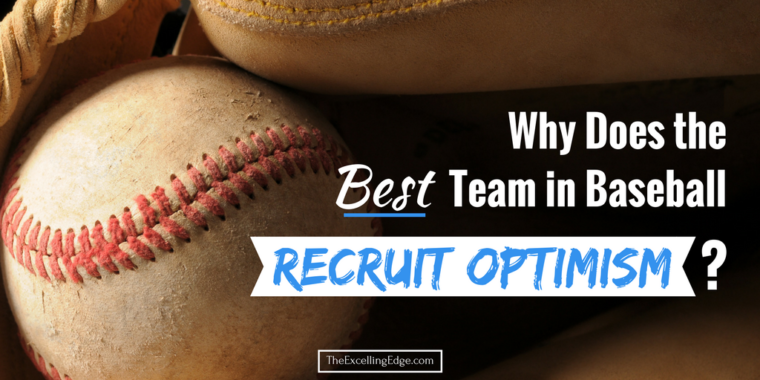 Major League Optimism
If there is any professional sports team in recent history who needed optimism, it was the Chicago Cubs. Then, through a thorough rebuilding, the Cubs dramatically ended their 108 year championship draught in a memorable Game 7 showdown against the Cleveland Indians.
Theo Epstein, President of Baseball Operations for the Cubs, was named #1 on Fortune's 2017 World's Greatest Leaders list.
Upon taking the helm of the downtrodden ball club, Epstein set a new standard for the kind of players that were going to lead this franchise's resurrection. He made character a cornerstone. As Tom Verducci put it, "[Character] was essential to Epstein's blueprint to win the World Series."
Epstein has Cubs scouts, player development staff, and the manager on the lookout for the intangible qualities of players.
He wants players with resilience, grit, and optimism. It should come as no surprise that the Cubs have a team of professionals focused on evaluating and developing the intangible, mental qualities of their ball players.
Why Is Optimism a Secret Weapon?
Research by
Dr. Martin Seligman
has long confirmed the power of optimism. His research shows that optimists compared to pessimists:
are more likely to persevere in the face of adversity
are happier and have better relationships
perform better in sports, work, and school
perform better under pressure
have better health
Optimism isn't some pie in the sky, glass half-full outlook in life. It is a balance of the hard facts of reality with the hope of success. That's what author Jim Collins termed, "the Stockdale Paradox."
I define optimism as a demonstration of our beliefs which drives how we interpret our circumstances, successes, and failures. How we think (optimism vs. pessimism) filters our entire life experience.
Optimists see their performance (good or bad) as controllable, or something they've earned through preparation and effort. It isn't hard to see how optimism is linked to having a growth mindset.
Optimism & Athletic Performance
In one of Seligman's experiments, he studied Olympic caliber swimmers. When given false feedback that swimmers were slower than their actual times, it was the optimists who responded with times that surpassed their first attempts.
The pessimistic swimmers, on the other hand, tanked. They swam even worse than the false (slower) time they were given on their first attempts.
Is that how you want your athletes to respond to disappointment or adversity? I don't think so.
In another study, Seligman's team found that NBA teams who demonstrated optimism were more likely to cover the spread after a loss.
Similarly, optimistic teams in Major League Baseball outperformed their more pessimistic counterparts by earning more wins, playoff appearances, and less losing streaks.
What Makes Optimistic Athletes Tick?
It all comes down to what athletes believe. And an athlete's beliefs drive his or her thoughts, emotions, and ultimately performance.
So, what do optimistic athletes believe that allows them to outperform the competition? High performing organizations are looking for athletes who believe:
They have some control or influence over successes and failures.
Setbacks won't last forever (i.e. don't fall into the Slump Cycle).
Failure is an isolated event and does not infect every area of life.
Failures are not to be feared, but learned from.
Solutions can be found. Success is repeatable.
These beliefs are the catalysts many recruiters, talent scouts, and coaches are looking for in athletes. It isn't easy identifying what makes an athlete tick. Yet, these beliefs are the underlying difference makers to look for and place a premium on (as the Cubs did).
Bonus Download
To help you talk with your athletes about optimism, I created this free PDF you can hand out or hang in your locker room. It explains the value of optimism and outlines "6 Beliefs of Optimistic Athletes that Improves Their Performance."
Leverage the Power of Optimism
Optimism spreads. Seligman's research tells us that optimism effects outcomes. It helps players focus on what is controllable. It helps them bounce back after a loss or injury. It helps them be better teammates. Ultimately, optimism can affect your win percentage. In fact, it may just be one of the intangibles that is your team's edge over the competition.
Question: What impact would more optimism have on your athletes?
I'd love to hear from you in the comments below, or on Facebookor Twitter.
Links: