Do you feel satisfied in the progress you're making on your goals? Like many of you, each new year I set my sights on next steps, progress, growth and achievements. I set BIG, scary goals. However, setting goals isn't the hard part. Following through is.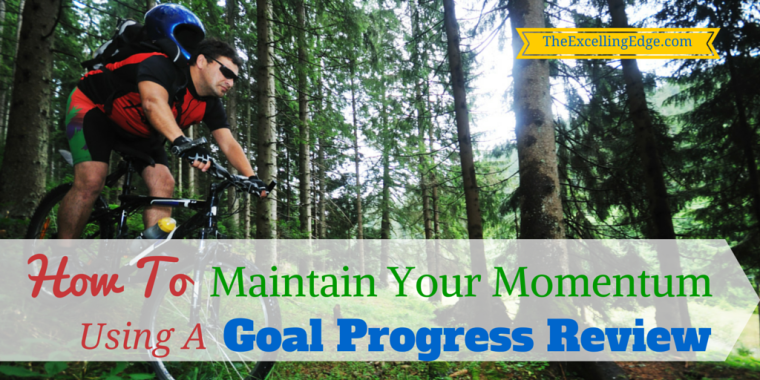 Only 46% of Americans who set goals at the beginning of the year make it past 6 months. Establishing a goal review process can greatly increase your chances of following through on those lofty intentions.
How easily we lose track
Whether you aim to run a half marathon, save money or take that vacation to the tropics, keeping your goals visible, having accountability and checking in regularly go a long way toward helping you achieve what you set out to do.
Looking back, I can clearly see that the goals I failed to achieve are those I simply lost track of. The same may be true for you.
Adopt a regular goal review process
To avoid this common pitfall, I designed a goal review process for myself. In my free download, The Only 3 Apps I Use to Set, Plan & Track Goals, I explain how I set myself up to stay on track with my goals.
In this post, I'd like to share part of my follow-up process. Hopefully it will help you keep your goals on track and maintain the momentum necessary to succeed.
Here is my 3 step Goal Progress Review. Download my Evernote template for this here.
If you haven't already done so, commit each of your goals to writing so you won't forget them. This solidifies them and makes them tangible. It also gives you a greater sense of ownership over each one.
I've intentionally planned to work toward some of my goals later in the year. Even though I may start working on a goal later, I write it down so I can maintain awareness of it.
1. For each goal, respond to 3 specific prompts:
List progress made, achievements met or personal victories. Essentially, since your last goal review, what positives or successes have occurred? These may be significant or even minor but it is still important to list them. By doing so you'll gain a sense of pride, accomplishment and confidence, which fuels your momentum.
What needs improving? This is where you take an honest look at what's not working. What have you neglected, pushed aside or forgotten about? Perhaps you simply need to plan your grocery shopping better to ensure you eat healthy. Or maybe you need to plan your time better to get housework done so you can get in that extra run. Whatever it is, make a note of what needs improving.
What lessons have you learned to help you going forward? As you work toward your goals, you inevitably learn along the way. It's here that you want to capitalize on it. What's working well for you? How was it that you got to the gym on Tuesday? What happened that triggered a cigarette craving on Monday? Learn from your successes and your failures. Apply those lessons  as you move forward!
2. Consolidate action items. After doing a quick scrub of each goal you've set using the 3 prompts above, collect next steps and to-dos. This packages up your goal review into the things you need to do. I suggest beginning each of these with a verb – something to do.
3. Assimilate to-dos. In this last step, the intent is to set yourself up for future success. Add action items to your to-do list. I use Wunderlist for this.
Set reminders to help you establish routines or hold yourself accountable. I have several that go off throughout the day to help keep me on track, using Coach.me.
Add insights to your journal, white board or notebook as appropriate so you can revisit them later.
Schedule your Goal Progress Review
You're probably wondering, "How often am I supposed to use this Goal Progress Review?" Honestly, only you can answer that for yourself. I've found it depends on several factors: individuals, goals, and amounts of self-regulation. For some, once per week may be best. I've found that once per month works well for me. That said, I do check in on my progress for several goals everyday (using Coach.me).
Once you decide on a timeframe, schedule your Goal Progress Review on your calendar. Protect it like you would an important appointment, even though it is with yourself. If you really care about achieving your goals, you must make time to ensure you are keeping on track.
I encourage you to download my free Evernote template, customize it and find what will work best for you. The point is to stay aware of your goals, evaluate your progress and maintain the momentum you need to accomplish your goals.
Question: What other strategies help you stay on track with your goals? I'd love to hear your ideas or tools in the comments section.
Links: