I love pre-game speeches. I love the excitement and anticipation before the face off. I love watching coaches, like yourself, share a few final thoughts before the teams take the field. How can you make the most of those precious moments before the game? Let's look at 4 Cs to guide your pre-game speech.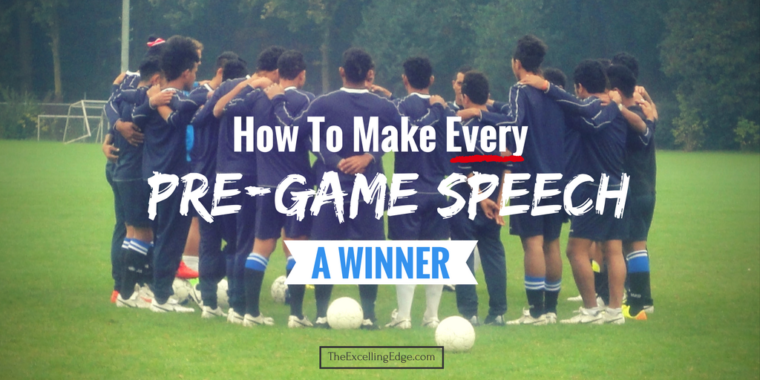 The art of the pre-game speech is a skillset many coaches struggle to master.
You may wonder:
What does my team need to hear?
What kind of example can I use?
What message do I want to get across?
4 Targets for Your Pre-Game Speech
To help you focus your message, I've identified 4 targets of a powerful pre-game speech.
To keep it simple, I'll show you how to hit each of the 4 Cs.
1. Confidence
One of the six sources of confidence is preparation. Payton Manning once said, "Pressure is something you feel when you don't know what the hell you're doing."
Help your athletes overcome pressure and play with confidence by highlighting the hard work, sweat equity, and diligent hours they've invested to be ready for this game. Talk about the collective strengths and skills they have to match up against their opponents.
One caution: stick to what's true.
2. Cohesion
Jon Gordon tells us that, "Team beats talent when talent isn't a team." A united team is a powerful team.
Talk your team about what they've been through together. Refer back to early morning conditioning and adversity they've endured. Emphasize the importance of playing together as one unified team.
Urban Meyer did this all season long with the Ohio State Buckeyes football program. Their staff pounded the concept of "Seven Units Strong" into their team, showcasing how the seven position groups had to play together if they were to reach their goals. That year they won the first FBS Playoff National Championship.
3. Concentration
It is easy for athletes to get focused on the wrong things. I often refer to this collection of distractions as worries, doubts, and fears. This is especially true when players are focused on things they can't control (i.e., referees, weather, opponents actions, winning or losing).
Encourage your athletes to focus only on what they can control. This minimizes stress and frustration and helps each player stay in the present moment. Emphasize the control they have over their attitude, effort, and level of execution – owning their role.
4. Commitment 
You want your team to be resilient, persevere through momentum shifts, and fight to the end. That's commitment – to each other, to the game, to giving their all.
A key to inspiring such commitment is to instill belief. Be an "over-believer," like Dabo Swinney. Tell your team how much you believe in them and why. Belief fuels the fire of commitment.
Target at least one C in every pre-game speech, or hit them all. Plug and play what works best for you.
Bonus Download
To help you make the most of every pre-game speech, I create a PDF to remind you of the 4 Cs. Print it out and keep it handy throughout the season!
Your Pre-Game Speech Keys to Success
Whether you are a high energy motivator or a philosophical tactician you can master the art of a pre-game speech. You can use just a few words or take our time. The point is to make every word count.
By targeting these 4 Cs, you'll ensure your team is receiving a message packaged to optimize performance. Confidence, cohesion, concentration, and commitment are your pre-game speech's keys to success!
Question: What other targets do you believe are important for a pre-game speech?
I'd love to hear from you in the comments below, or on Facebook or Twitter.
Links: