Sports fans love drama. But from the viewpoint of the coach or player, come-from-behind victories are nerve racking. In 2016, we witnessed numerous comeback stories – Wildcats, Cubs, Caveliers, Patriots. When it comes to getting your team ready to play, how will they respond if they give up a big lead? Do they have what it takes to win a comeback?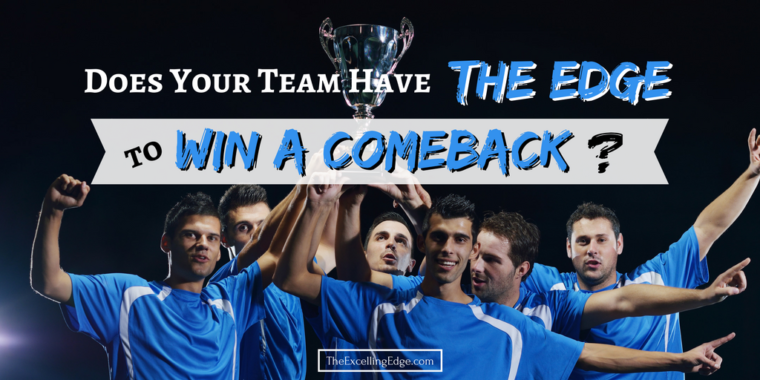 Comebacks Win Championships
What can coaches and players learn from all of the come-from-behind champions in 2016? There were plenty of examples to study.
It's been a pretty insane year of championships. pic.twitter.com/c6BfNV3ABp

— SportsCenter (@SportsCenter) February 6, 2017
Villanova trailed by 5 points to UNC. Won 77 – 74.
Coastal Carolina was down 1 game in a three-game series and came back to overtake Arizona in a 4-3 decisive Game 3 in Omaha and claimed their first ever College World Series National Title.
Cleveland became the first team in NBA history to overcome a 3 – 1 deficit in the NBA Finals. Won Game 7 93 – 89.
Los Angeles Sparks claimed their first WNBA title after closing a six point gap at the half in a winner-take-all Game 5.
After a 108 year drought, Chicago came back from a 3 -1 series deficit to defeat the Indians in a historical Game 7, extra innings, 8 – 7 victory.
Real Madrid came back from a 2 – 1 margin in the 52nd minute to win the FIFA Club World Cup by scoring 2 in extra time for a 4 – 2 defeat of Kashima.
Dabo's Tigers trailed the Crimson Tide until 4:38 in the fourth quarter and later overcome a 3 point deficit with 0:01 on the clock to pull off a 35 – 31 nail biter.
The Patriots clawed out of a 28 – 3 hole to pull off the biggest comeback in NFL Super Bowl history, and claim a league record 5th Super Bowl title.
Does your team have what it takes? If not, it may just cost you a championship.
4 Psychological Factors That Win Comebacks
Teams who successfully mount a comeback share 5 psychological factors. Each is an aspect of mental toughness you can develop in your team. Without them, your team won't stand a chance when the going gets tough.
1. Always Compete
Teams who get behind are able to come back because they keep competing. Players lock in on every play. They work to win their matchup, win the possession, to win every point. They don't stop until the competition is over, when time runs out.
2. It's Not How You Start, It's How You Finish
I learned this beautiful phrase as a tennis instructor and continue to discuss it with my clients. No competition is decided at the start. There are no Ws awarded for winning the coin toss or opening position. Teams who are able to comeback when necessary believe that it is how you finish that truly matters.
3. Resilient
Not every team is equipped to battle through adversity. Some throw in the towel. Some make excuses. Others bounce back, take it on the chin and keep fighting. To come from behind, a team must be resilient and focus on the next play, pitch, or serve.
4. Relentless
In order to complete a comeback, teams can never give up or give in. Regardless of how bad it looks (down 21 points to the NFL's highest scoring offense), there can be no quit. This is what makes upsets and last second heroics possible. If a team gives up, they won't even be in the game for a shot to tie or win.
Bonus Download
To help your athletes hone in on the mindset required to seize the come-from-behind victories, I created this free downloadable poster.
Use it as a handout or hang in your locker room.
Make Your Team Comeback Tough
Champions aren't always frontrunners. In fact, it's the teams who have learned to win ugly when the situation calls for it that often come out on top. Comebacks are part of the drama we love about sports. The question is, does your team have what it takes?
Question: What is your favorite comeback story in sports? 
I'd love to hear from you in the comments below, or on Facebook or Twitter.