Great athletes are competitive. Nothing brings out the best in athletes like tough competition. As the Bible says, "Iron sharpens iron."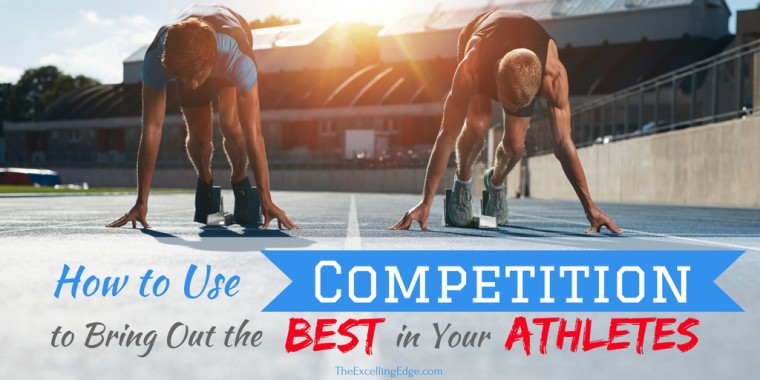 Lacking Tough Competition Resulted in Defeat
I played tennis in a small town high school. During our season we played other small towns in our area. For the most part, we dominated the teams we played. It was awesome! This is, until we got to the state tournament.
Having not been battle tested throughout the season, we got outplayed on the big stage.
To be the best you have to compete against the best. More specifically, athletes get better from competing against those just a little better than their own current abilities.
Competing against those who perform below your ability may build confidence, but it won't challenge your skill set. In contrast, playing against those far superior to you drains confidence.
Michael Josephson said, "When you compete with someone as good or better than you, you may not win, but you will never lose"
Katie Ledecky's Olympic Domination
This truth is never more evident than in the Olympics. The best athletes in the world go head-to-head on the world's biggest stage.
Going into the Rio Olympic Games, the U.S. swim team's youngest competitor, Katie Ledecky, age 19, said, "I'm always motivated by competing against the best and going to the Olympics – I will be swimming against the best in the world." Indeed, the competition in Rio brought out the best in Ledecky.
Women's 4x100m freestyle – SILVER
Women's 400m freestyle – GOLD
Women's 200m freestyle – GOLD
Women's 4x200m freestyle relay – GOLD
Women's 800m freestyle – GOLD
In the 800m freestyle, Katie's premier event, she crushed the olympic record to win gold by nearly 10 seconds.
Also impressive was the 11 second gap between Ledecky and the silver medal finisher. She dominated the field.
Raise the Level of Competition
In order to push your athletes to reach their potentials, help them to face competition consistently.
Here are a few ideas to get you thinking:
1. Head-to-head competition in practice
Match your best offense against your best defense
Give your top dog a challenge by giving others a head start
Challenge athletes to beat their own times, scores, & streaks
2. Game-like scenarios
Simulate your team playing from behind
Compete against the clock
Adjust the playing field (ex. fielding ground balls closer to the plate)
3. Hit the road
Travel to nearby tournaments
Encourage athletes to join summer travel leagues
4. Abnormal competition
Practice a level up by skill level or age group (even at the park)
Scrimmage the next tier of your sport (i.e., high school against junior college)
Challenge streaks and records in practice or competition
Always Compete
To bring out the best in themselves, your athletes need to compete against tough competition. Help them find opportunities. Create new challenges. Give your players opportunities to rise to the occasion, break through barriers, and unleash their true potential. Heed a foundation of the Seattle Seahawk's Head Coach, Pete Carroll's philosophy – always compete.
Question: What do you think about the value of tough competition? I'd love to hear from you in the comments below, or on Facebook or Twitter.