At nearly every level of sports, practice time is regulated. The NFL is a solid example of this. Many coaches believe this is making it harder to develop young players, refine skills, and get their teams on the same page. Despite these limitations, coaches can use the sport psychology skill of imagery to help make the most of the practice they do get.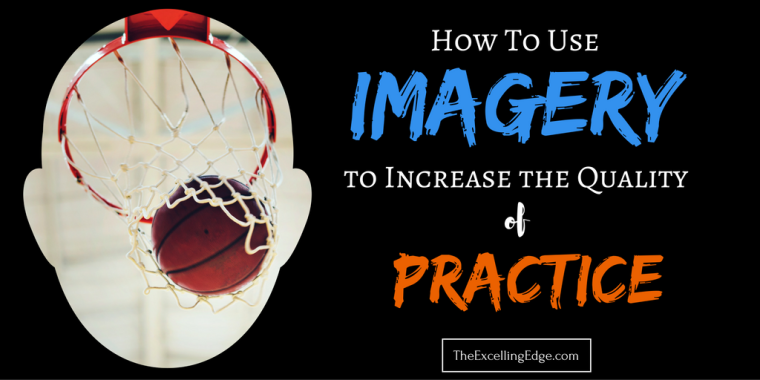 The Power of Imagery
Imagery, sometimes referred to as visualization, is simply picturing something in your mind – for a purpose.
It leverages the mind-body connection and produces muscle memory, much like the physical reps of any technique or drill.
Research has shown that imagery helps players learn new skills faster, instill techniques, and develop automaticity.
It can also help athletes evaluate their past performance after a shot, game, tournament, or even a drill.
Imagery can help build confidence, reduce nervousness, and increase an athlete's performance on game day.
With so many benefits, imagery is a skill well worth integrating into your athlete's routine.
3 Ways to Integrate Imagery into Practice
If you're like most coaches I know, you'd like more practice time with your team. With this said, every coach should be looking for ways to maximize the quality, efficiency, and effectiveness of practice time.
Imagery is a great way to do just that.
Too often, I've seen athletes standing around during practices. Many times, they were just waiting their turn.
Let me show you how to use that time more effectively.
Here are 3 easy ways every coach can integrate imagery to make practices more effective and efficient.
1. Before a Drill
After explaining a drill, tell your athletes to picture themselves perfectly executing the drill with imagery. This primes the neural connections in the brain and body to successfully follow suit.
The body will do its best to mimic what the athlete sees in his or her brain.
2. Next In Line
Just before executing the next repetition, drill, or sequence, encourage your athletes to image themselves completing it flawlessly.
The imagery gives them greater confidence and focus for what they are about to do. That increases the quality of their practice.
Plus, every athlete just got an extra rep!
3. After a Drill
Once each athlete has completed the repetition, drill, or sequence, tell him or her to review it once more using imagery. Here, again, each athlete pictures themselves completing the drill exactly as it should be done.
This can be done regardless of how well the athlete actually (physically) performed the drill.
Perhaps an athlete's technique or coordination aren't quite right. Even so, she can get additional perfect reps just by imaging herself doing it. Caution – this only works if the athlete knows and has seen a quality demonstration of what is expected.
Another perfect rep completed!
Make Imagery Part of Every Practice
The coaches I've worked with who adopted this approach love the extra reps and training their athletes get during the course of a single practice. Not only do athletes get more reps, but they are essentially perfect reps – as perfect as the athlete's ability to see it in his or her mind.
Just like any other skill, imagery takes practice and coaching to make it most effective. The more realistic the better.
Instill the use of imagery into all of your practices and watch the growth of your team.
Question: How else could athletes use imagery during practice? I'd love to hear from you in the comments below, or on Facebook or Twitter.