Responsibility equals accountability equals ownership. And a sense of ownership is the most powerful weapon a team or organization can have," Pat Summit, former Tennessee Women's Basketball Coach, wrote in her book Reach for the Summit. 
In last week's post about creating a powerful motivational climate, I touched on the value of ownership. However, as Coach Summit puts it, ownership begins with responsibility. In order to take responsibility, athletes need to be clear on the team's goals. They must also be clear about how they, as individual players, are to contribute to the team's success.
Inside an NBA Locker Room
Just before the NBA All-Star break, the Cleveland Cavaliers were leading the Eastern Conference by three games. Despite their success, Head Coach David Blatt was fired. Immediately after receiving the news, players held a player's only meeting – their third of the season.
The meeting was precipitated by growing tensions because, "there was a lack of accountability,"according to ESPN NBA Reporter Brian Windhorst. He said different players "played by different rules and got away with different things." Ultimately, the organization's three top dogs called each other out about effort, attitude, and leadership.
According to Windhorst and Zach Lowe, Labron James, Kevin Love, and Kyrie Irving committed to place more emphasis on individual and collective accountability. Alongside new coach Tyronn Lue, the three have done just that, resulting in "an uptick in performance."
One source told ESPN the trio agreed to police each other and use their influence within the team to "set a standard of accountability."
Great Teams Require Accountability
In his bestselling book, The Five Dysfunctions of a Team, Patrick Lencioni explains that accountability "refers specifically to the willingness of team members to call their peers on performance or behaviors that might hurt the team." This is exactly what the Cleveland Cavaliers were missing. And exactly what they needed.
Following their player's only meeting, the team went 4-1 with wins over non-conference contenders the San Antonio Spurs and LA Clippers.
In Lencioni's dysfunctions pyramid, avoidance of accountability comes from team members avoiding the discomfort of confronting one another about their performance and behavior. However, championship teams move past this discomfort for the betterment of the team.
What is at Stake?
In the figure below, I've summarized Lencioni's description of teams which avoid accountability versus those who promote accountability.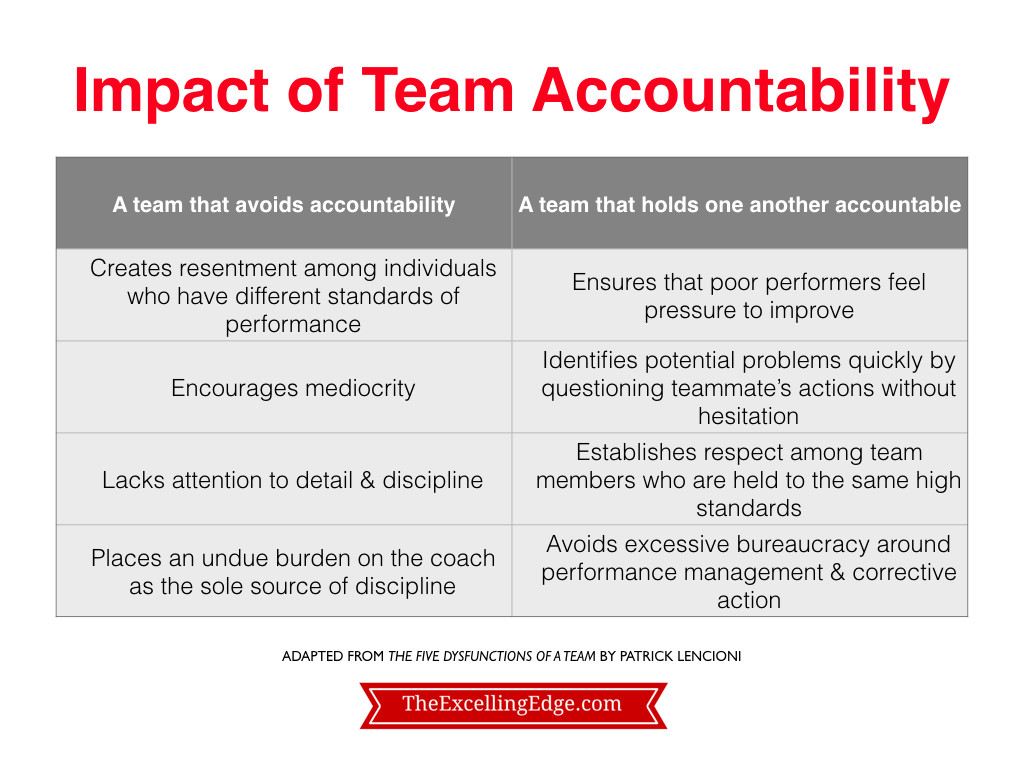 How Great Teams Promote Accountability
Not all teams have a seasoned and respected veteran player like James Jones, who called the Cavalier's players only meeting. Teams that promote accountability use many of the same successful strategies. Here are three basic yet essential strategies to help you establish a foundation for accountability.
Document clear & agreed upon team goals

Describe individual roles

Articulate standards of behavior
Free Download
To help you build a team that holds each other accountable, download this free checklist: 8 Ways to Cultivate a Climate of Accountability.
A Warning to Coaches
Lencioni warns leaders (read coaches) that their challenge is to "encourage and allow the team to serve as the first and primary accountability mechanism." If the coach is the sole source of discipline, teammates assume the coach is handling accountability and hold back when they see performance and behaviors that are not best for the team.
This is why the first rule of Seattle Seahawks Head Coach Pete Carroll's 3 Rules in his Win Forever philosophy is, "Always protect the team." Discussing his tenure at USC he wrote, "The upperclassmen became the beacons for Rule #1, taking the younger players under their wing while championing our staff's message."
This rule carried positive implications on the field as well as off the field. It helped players remain eligible, stay out of trouble, practice hard, and take responsibility for their in-game assignments.
Accountability is a Mark of Championship Teams
Championship teams are made up of players who hold each other accountable. Athletes ensure that everyone is acting and performing in a manner that supports the team's goals. Accountability keeps players from simply looking out for themselves or getting their stats, but contributing to the success of the team. This requires team members to trust one another, to overcome the discomfort of confrontation, and to give each other permission to police each other's actions, just like the Cleveland Cavaliers did.
Question: How have you seen teammates hold each other accountable? I'd love to hear from you in the comments below, or on Facebook or Twitter.
Links: