Everyone appreciates a "class act." The term is synonymous with athletes who demonstrate sportsmanship and respect toward their teammates and opponents. It is a reflection of their character. What coach doesn't want a roster filled with class act athletes?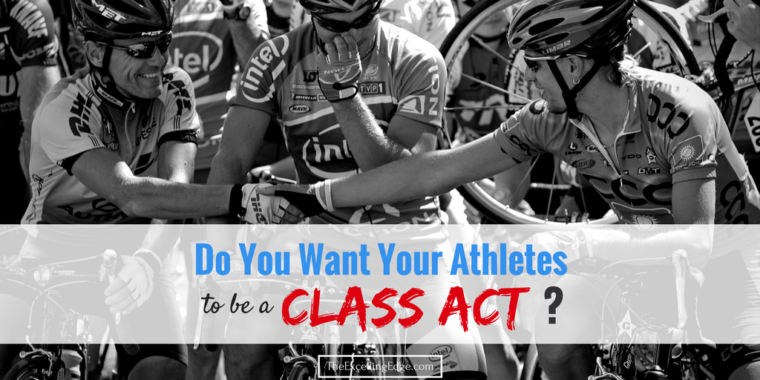 Campbell's Mind Your Manners Philosophy
Second year head coach, Matt Campbell, has led the Iowa State Cyclones to a 7-5 finish in 2017, a vast improvement over their 3-9 effort last year. One surprising element of Campbell's regime is the Cyclone Code of Conduct.
The team's emphasis on please and thank you and other pleasantries is how Campbell and his staff are ensuring their athletes treat everyone with respect, on and off their field.
I can only assume they deem respect a cornerstone of their program's culture. Indeed, teammates who show respect to one another are more likely to build strong, positive relationships – a basis of social cohesion.
3 Steps to Creating a Class Act Team
Regardless of what level you coach at, it is worth the effort to lead your athletes to become class acts. Just as the legendary New Zealand All Blacks rugby team espouses, "better people make better All Blacks."
Here are 3 steps every coach should take to develop their team into better people, into class acts.
1. Establish a Code of Conduct
Like Iowa State, you must first establish a foundation, a set of expectations that every member of your organization is to adhere to. This is why your culture is critical to developing your team.
Ask yourself (and your team) these 3 questions:
What do we stand for?
What do we want our community, opponents, and families to say about us?
What behaviors demonstrate these values? Be clear and concrete.
2. Model Behaviors
Coaches, staff, and (perhaps most importantly) team leaders must be the standard bearers for your team's code of conduct.
Otherwise, you will undermine your own authority or lose credibility with your team. If the leaders of your team are models for what right looks like then this behavior becomes the norm, what all others aspire to.
3. Enforce the Standard
When I help teams develop their culture, one crucial step is discussing how they will "promote and protect" it.
As coach Matt Campbell did with the Cyclones, start by posting your Code of Conduct where everyone can see it. Then empower your team leaders and players to hold one another accountable on and off the field. Peer accountability is the strongest enforcement you'll find.
Build People Not Just Athletes
Last year I got to hear Patrick Murphy, Alabama's head softball coach, speak on the importance of "People First." Similarly, Cyclone football players are being coached to excel as people off the field, just as much as they are being coached to excel on the field. Perhaps a Code of Conduct deserves a prominent position in your coaching philosophy, program, and inside your locker room.
Question: What is one way a Code of Conduct could transform your team (or already has)?
I'd love to hear from you in the comments below, or on Facebook or Twitter.
Links: