Coaches want their athletes to play their best in the biggest moments in sports. Players want to come through for their teammates when it matters most. Why do top performers seem to play their best on the biggest stage? One answer can be found in what athletes believe.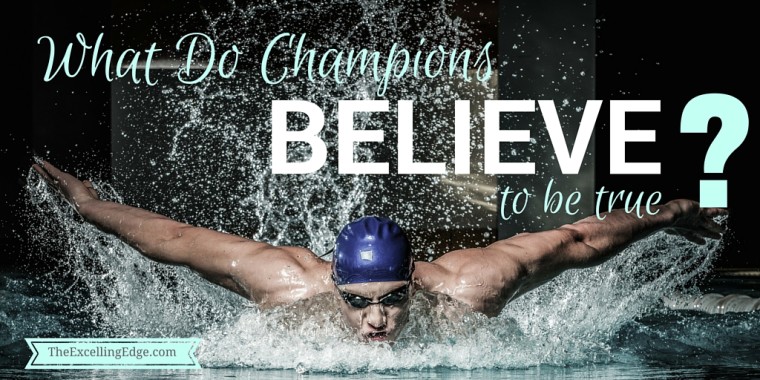 Champions Play Big On Big Stages
In Super Bowl 50, Denver Bronco's linebacker Von Miller came through big for his team with a first quarter strip-sack of Carolina's quarterback, Cam Newton, that resulted in a defensive touchdown to give Denver the early lead. It isn't easy to play big on your sport's biggest stage, but Von Miller finished the night with a Super Bowl Championship ring and was named one of only five defensive MVPs in history.
What allows champions to play big on the biggest stages?
Champions Are Mentally Tough
An athlete must have mental toughness to shine in the biggest moments. They need unshakable confidence in themselves. They have to know how to manage their nerves. They must focus on the right things at the right times. They control their thoughts, emotions, and actions – the only things they can control. They must also have the technical, tactical, and physical abilities to succeed.
What Champions Believe
However, amidst all that, there are 4 beliefs that allow athletes to play their best in the biggest moments.
1. I Have What It Takes
After his semi-final route of Roger Federer in the 2016 Australian Open, Novak Djokovic said, "…it's important to always believe that you can be your best, perform your best."
Great players believe in their abilities and that they have what it takes to overcome adversity and succeed.
2. I Play For Moments Like These
Often you hear great players say things like, "This is what's its all about." They've dreamt of playing in the big game, hitting the walk-off homer, making the game ending interception, or coming through for their teammates.
Great athletes love to compete. They want their number to be called. They want the ball in their hands. They believe they can handle the heat and that is why they play the game.
3. Every Play Is Just One Play
This may be the most astonishing belief of all. This defines great athletes. They have an unbelievable ability to act as if no play, point, or possession means any more than another. In post-game interviews you'll hear MVPs say they were trying not to think about the game being on the line.
It's a mind game. Great athletes master the mind game.
What this belief allows athletes to do is to separate themselves from the hype, the pressure, the moment. Then he or she can just focus on the present moment and execute. Simple.
4. Why Not Me?
You've heard it from the 2014 Superbowl Champion Seattle Seahawks and Russell Wilson, especially, "Why not us?"
Great athletes believe in the possibilities. Someone will win and someone will lose. Why not be victorious? Why not come out on top? Why not go out there and claim the W? Why not?
Free Download
To help coaches walk their athletes through this exercise, I developed a free poster, "What Champions Believe."
Coach Your Athletes to Believe Like A Champion 
Athletes want to be the hero in some way. They want their teammates to count on them. Coaches can help them prepare for the biggest moments in sport by encouraging championship beliefs. These strong beliefs aren't seared on a player's heart overnight; it takes time and reinforcement. That is why they must start now. Prepare your team to believe like champions.
Question: What belief does your team need to believe most? I'd love to hear from you in the comments below, or on Facebook or Twitter.
Links: