No one likes ambiguity. It fuels anxiety. It causes hesitation. Yet, athletes still struggle to find their place on the team. Where do they belong? What's expected? Should coaches more clearly communicate with players about their roles?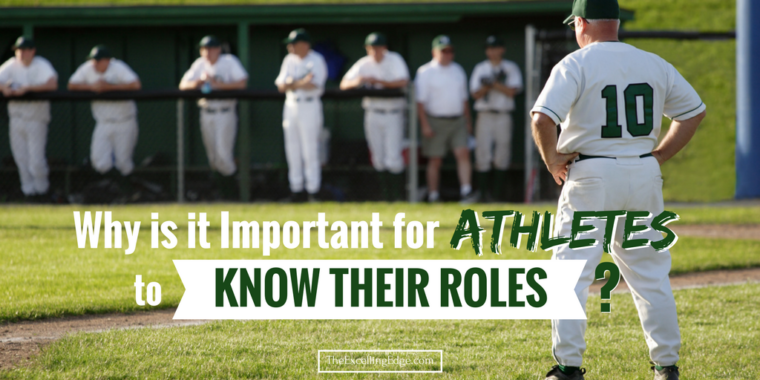 A Tale of Two Coaches
In high school I never knew where I stood with my tennis coach. I knew I wasn't the top dog. I knew I needed to win matches to help our team. That was about it.
From week to week I didn't know where I would be in the lineup. I didn't know if I was competing to move up a spot, or who my doubles partner would be. On top of that I didn't get much feedback about what I needed to do to get better.
Consequently, my experience on the tennis team was frustrating and a bit aimless. Worse, with this coach, I wasn't reaching my potential as a tennis player.
In contrast, my high school cross country coach was very clear about my role on the team.
Early on, he expected me to build my endurance and battle for a varsity position. Later he encouraged me to push myself harder and battle our best runners.
As an upperclassman, he expected me to be a leader on our team, to teach the younger guys, and to help our team qualify for the state meet by finishing in the top 15 in the region.
There was never any guess work on my part. I knew my role. I played my part. And I was committed. In the end, I was on my way to reaching my potential as a runner.
On one team I was a motivated leader. On the other, I was frustrated and stuck. The biggest difference was whether or not I understood my role.
Roles Must Be Defined
What does it mean to clearly communicate a player's role?
Most coaches understand the traditional team building framework: Forming, Storming, Norming, Performing. This is the process a group traverses to become a united team.
A major part of facilitating the team building process is for individual athletes understand and accept their roles on the team. That means that as the coach, you must articulate to your athletes what their roles are.
Is she the starting point guard or coming off the bench with limited minutes? Are you counting on him to be an aggressive pass rusher or only come in for a specific coverage scheme?
The more specific the better. Talk to players about expected positions, playing time, situations. Talk to your athletes about their strengths and what they need to improve on. Share your exceptions for what kind of teammate, role player, or leader you expect him or her to be.
3 Reasons Players Need Role Clarity
Based on my own sport experience and working with coaches and leaders for the last decade, I want to share why it is so important for your athletes to know and understand their roles on the team.
1. Own the Role
Once players know what your expectations for them are and accept what roles they have, they can own their role.
When players own their role, they commit to being the best (fill in role here) they can possibly be. They take initiative to study, improve, and execute their role to the best of their ability.
2. Take Responsibility to Get Better
Once players know and accept their roles, they can commit to getting better everyday. This goes hand-in-hand with owning your role.
For example, in Above the Line, Urban Meyer shared how, as the coach of the Florida Gators, he adjusted the role of one time quarterback Cornelius Ingram.
Ingram was a quarterback in high school and highly recruited. However, when Meyer took over in 2005, he convinced Ingram that it would be best for the team and his future to move to tight end.
In 2006, Ingram made the switch to tight end, worked his butt off, and contributed greatly to Florida's National Championship season. He went on to be drafted by the Philadelphia Eagles.
Embracing his new role, Cornelius took responsibility for mastering the position and it earned him a two million dollar rookie contract in the NFL.
3. Motivation to Work Hard & Compete
Clarifying an athlete's role also means explaining how that role contributes to the success of the team.
Knowing how their role contributes and helps the team win is a huge motivational factor. When athletes know their role matters, they are more likely to buy-in, work hard, and compete at a high level.
Additionally, clarifying roles is part of creating a positive motivational climate for your whole team.
Bonus Download
Once you've clearly communicate roles to your athletes, you'll want to encourage them to Own It! That's why I created this printable, locker room worthy poster, you can download and share with your team.
Teamwork Begins with Clear Roles
If you want athletes to work together, work hard, and perform at a high level, you must clarify player's roles. With clear roles, your players will know who is responsible for everything on the team. They can support and hold each other accountable to those roles. They'll be more motivated to bust their butts for the team. And, they'll own their role. That's what championship teammates do.
Question: How do you help athletes know and accept their roles on your team?
I'd love to hear from you in the comments below, or on Facebook or Twitter.
Links: